Eating For Heart Health: Fish Filets With Fresh Tomatoes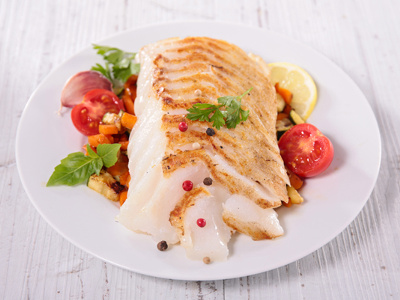 Could your diet use a little tweaking to make it a bit more heart-friendly? Eating fish more frequently can help! According to the American Heart Association, eating fish twice a week can improve your heart health. There is evidence that people who eat fish regularly are less likely to have cardiovascular disease.
The heart-healthy benefits of fish come from the omega-3 fatty acids. Evidence suggests that omega-3 fatty acids help reduce risk factors for heart disease, including high cholesterol and high blood pressure. Omega-3 fatty acids can also decrease risk of arrhythmias, which can lead to sudden death. Fish is also a good source of protein and isn't high in saturated fats.
Are you ready to get more fish in your diet? Try this simple yet tasty heart-healthy fish recipe from the American Heart Association.
Fish Filets with Fresh Tomatoes
Serving Size: 3 oz of fish
Ingredients:
2 Tbsp olive oil
1/3 cup chopped onion
3 large garlic cloves, crushed or minced
10-12 oz Roma tomatoes, chopped
1 small carrot, thinly sliced
1 small dried bay leaf
1/4 tsp pepper
1/8 tsp salt
1/8 tsp ground cinnamon
4 thin, mild fillets such as sole, cod or tilapia (about 4 ounces each), rinsed, patted dry
1.5-2 Tbsp fresh lemon juice
Directions:
In a large skillet, heat oil over medium heat, swirling to coat the bottom of the pan.
Add celery, onion, and garlic to pan and cook for about two minutes, stirring constantly, adjust the heat if needed so the mixture doesn't brown. Stir in the tomatoes, carrot, bay leaf, pepper, cinnamon, and salt. Cook for five minutes. Make four depressions in tomato mixture, place fish in the depressions. Spoon the tomato mixture over the fish to cover. Cook for three to five minutes, or until the fish is almost done. Remove from heat.
Drizzle fish with lemon juice. Let stand, covered, for five minutes so the fish finishes cooking and the flavors blend. Discard bay leaf. Serve immediately.
By Kyle Rose, RD, LD
---
About the Author
Kyle Rose is a registered dietitian and founder of Bariatric Dietitian Services. He has personally guided more than 2000 patients through the nutrition changes required to succeed with weight loss surgery.
---
Story Credit: http://www.wfaa.com/entertainment/television/programs/good-morning-texas/eating-for-heart-health-fish-filets-with-fresh-tomatoes/396703971