Eat To Live: Why It's Time To Get Serious About Your Diet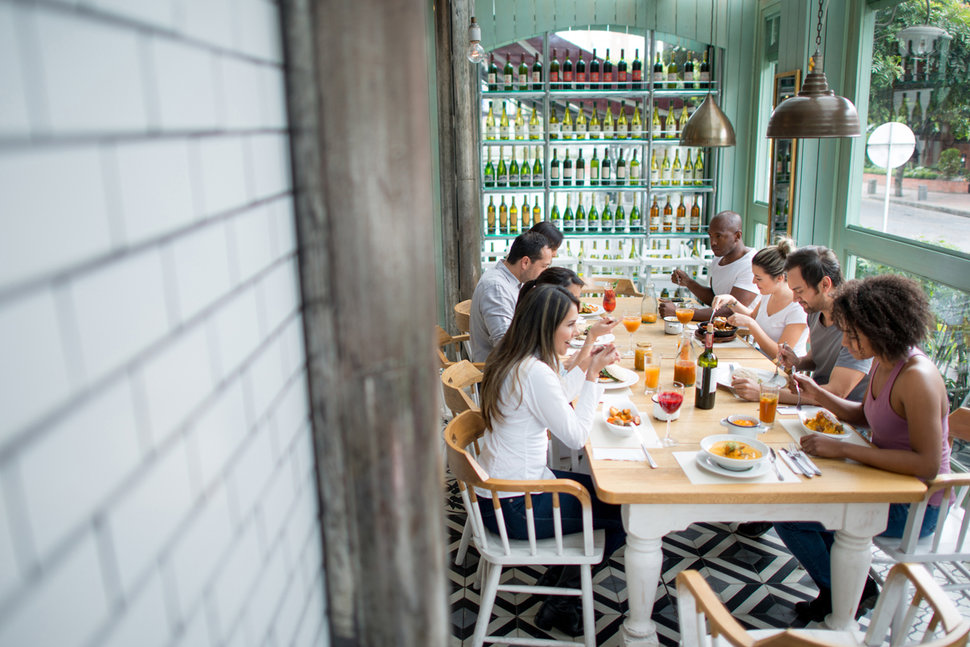 If you're like most Americans, your diet could use a makeover. But as the season of sun approaches – and many turn their attention to eating better (or simply less) to shed pounds for appearance's sake – there's ample evidence to remind us that the effects of a proper diet are hardly limited to the cosmetic.
In some cases, it may be a matter of life or death.
As an investigation published in March in the Journal of the American Medical Association found, getting too much of what's bad for us – or too little of what's good – is associated with an increase in deaths from heart disease, stroke and Type 2 diabetes (as well as from other causes like cancer, according to previous research).
The underlying premise that eating prodigious amounts of salty fare and red or processed meat can torpedo heart health isn't new.
But the latest study – which uses a comparative risk assessment model that incorporates data from multiple sources, including National Health and Nutrition Examination Surveys, and analyzes results from prior research – evaluates the association between 10 dietary factors and cardiometabolic deaths. "We wanted to understand, if you want to improve cardiovascular disease and diabetes in this country, how much does diet overall have a role, and what are the key individual components that are most important," says Dr. Dariush Mozaffarian, dean of the Friedman School of Nutrition Science and Policy at Tufts University and the paper's senior author.
The study finds so-called suboptimal intake – not getting enough of the healthy stuff, from nuts and seeds to seafood omega-3 fats, and too much of things such as processed meats (foods like bacon and sausage) and sugar-sweetened beverages – was associated with 45 percent of deaths – totaling more than 300,000 – from heart disease, stroke and diabetes in 2012. "It's almost a thousand deaths per day," Mozaffarian notes. "That's kind of a quiet crisis … happening right under our noses."
Notably, the researchers and outside experts point out that the study shows an association between diet and mortality; it doesn't prove a cause-and-effect relationship. "The study's comparative risk assessment model does not prove that changes in these dietary habits reduce disease risk," the researchers write. "Causality is different from identifying associations."
However, experts note, it's long been understood that diet – along with other pillars of health, including exercise and sleep – can have a profound impact on a person's heart health, as well as overall well-being and longevity. There's scientific basis for looking at dietary approaches for the prevention of cardiometabolic diseases, from diabetes to heart disease, as well as high blood pressure, notes Noel Mueller, an assistant professor of epidemiology at Johns Hopkins Bloomberg School of Public Health and the Welch Center for Prevention, Epidemiology and Clinical Research. Mueller co-authored an editorial accompanying the recent study in JAMA.
On the whole, Americans aren't eating enough healthful whole foods, like nuts, fruit and veggies, and are consuming too much salt, red meat and other unhealthy food and drink, but men tend to eat worse than women. And indeed, the study found men have higher percentage of deaths (nearly 49 percent) from heart, stroke and diabetes associated with diet than women (at about 42 percent). There was also variation between other groups: "A greater fraction of mortality from diet was observed among men compared with women, among blacks and Hispanics compared with whites and among adults with low education compared with those with high education," wrote Mueller and Dr. Lawrence Appel, also of Johns Hopkins, in the JAMA editorial, where education ranged from less than a high school diploma or a diploma with some college to having a four-year college degree or more.
Public health messaging and campaigns often focus on cutting down on certain foods. In addition, restrictions placed on advertising unhealthy foods to kids, voluntary goals to reduce salt in the food industry and soda taxes in some places like Berkeley, California, aim to further curb consumption.
However, while experts say it's certainly important to cut back on unhealthy food and drink, research finds deaths are also strongly associated with what we don't eat. In reviewing the association between diet and deaths from heart disease, stroke and diabetes, Mozaffarian says, consumption of both good and bad foods and drink were crucially important. "The highest proportions of cardiometabolic deaths were estimated to be related to excess sodium intake, insufficient intake of nuts/seeds, high intake of processed meats and low intake of seafood omega-3 fats," the researchers wrote. "In addition to fruits and vegetables, we found evidence for significant population benefits of more nuts and more seafood – omega 3s – and more beans and more whole grains," Mozaffarian says.
While many may be tired of hearing what not to eat, experts say it's important to be encouraged by a focus on what to add to your diet to live better – and longer. So while you're checking the salt content on food, or cutting back on red meat, pay attention to the vacancy on your plate where not only veggies but nuts and omega-3s should go.
In line with advances in nutrition science that shine a light on the importance of whole foods, rather than simply isolated nutrients, research shows that trying to get your nutrition in pill form is a losing proposition. "Food is your best source [and] the most economic source of the nutrients you need," says Janelle Walter, a professor of family and consumer sciences at Robbins College of Health and Human Sciences at Baylor University. Trying to prevent cardiometabolic diseases through nutrient supplementation doesn't work, Mueller adds. "We can't get the same kind of nutritional benefits through supplement use," he says.
By the same token, food itself is not a single magic bullet, Walter notes, but rather eating well – and not too much – must be part of a balanced lifestyle approach to prevention. Though genetics plays a role in risk, being physically active, getting adequate sleep, drinking in moderation and cutting out other obvious dangers like smoking, she says, can all add up to improved cardiovascular health and reduced risk of heart disease – which remains the No. 1 killer in the U.S.
Still, the role of diet is significant. As it relates cardiovascular risk and diabetes, "this isn't a minor sideshow," Mozaffarian says. "This is front and center."
---
Story Credit: http://health.usnews.com/wellness/food/articles/2017-04-18/eat-to-live-why-its-time-to-get-serious-about-your-diet