Dr. Campbell: Can Coffee Perk Up Your Heart Health?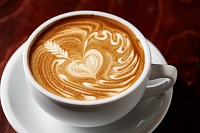 RALEIGH, N.C. (WNCN) — Coffee has become part of our daily lives—for many of us it begins our day.
Coffee contains lots of caffeine and new research suggests that caffeine may in fact help protect us from heart disease.
1. Tell us about the new study on coffee and heart disease?
The study, published in Nature Medicine last week, included more than 100 adults. Participants were given surveys, had blood samples taken and had their medical histories reviewed—over a 10-year period.
Researchers found that in some older adults in the study, inflammation was amplified but not in others. When inflammation is revved up– people often had high blood pressure and stiff arteries. These can lead to heart disease.
We know inflammation leads to heart disease, cancer and other medical problems. In the experiment, there was evidence that caffeine blocked this inflammatory process and resulted in less inflammation.
2. What is it about coffee and caffeine that works to decrease heart disease risk and prolonged life?
This is not the first study to show that caffeine may actually lower risk of heart disease.  There are probably numerous pathways in the body that lead to inflammation—this study identified one of them that caffeine can interact with and potentially decrease risk for heart disease.
3. Many of us have been told by our doctors to limit caffeine—what is the bottom line with this study?
These findings might help explain why past studies have linked higher caffeine intake to a longer life—but as with anything, moderation is key. This study was not designed to examine the effects of caffeine but, by serendipity did show an association. But we must remember that caffeine is not a magic bullet for heart disease—it may simply be an important part of an overall healthy lifestyle.
So, to me, the take home message is that it is certainly OK to enjoy a cup of coffee in the am and there may even be real health benefits from the morning cup of Joe.
In addition, if you have chronic medical conditions—such as heart rhythm disorders or palpitations, for example, it will be important to talk with your doctor about beginning  or increasing your caffeine intake.
---
Story Credit: http://wncn.com/2017/01/23/dr-campbell-can-coffee-perk-up-your-heart-health/