DIY Heart-Healthy Marinara Sauce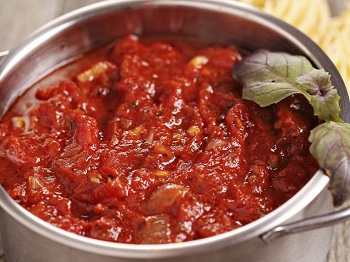 Packed with antioxidant-rich veggies, our chef's marinara sauce beats anything you'd find in a jar.
The convenience of marinara sauce in a jar is pretty hard to beat. But with some extra time in the kitchen, the nutritional value of traditional sauce — already packed with good stuff — goes off the charts. Check out Renown Chef Chris Wyatt's take on homemade marinara.
Heart-Healthy Marinara Sauce
Servings1/2gallon sauce
Cook Time45min.
Ingredients
1 medium yellow onion, diced
2 large celery stalks, diced
1 medium red bell pepper, diced
2 tablespoons fresh garlic, minced
1 teaspoon granulated garlic
1 teaspoon granulated onion
1 teaspoon black pepper
1/2 cup fresh parsley, minced
1 28-ounce can no-salt-added whole peeled tomatoes in juice
1 15-ounce can no-salt-added diced tomatoes in juice
1 15-ounce-can no-salt-added tomato sauce/puree
2 tablespoons dry oregano
1 tablespoon dry basil
1 cup fresh basil leaves, chopped
Instructions
Gently spray nonstick cooking spray onto heated nonstick pan on medium heat. Add onion, celery, peppers and garlic and cook until just lightly browned, about 3-5 minutes.
Add black pepper, granulated garlic and minced parsley. Continue to cook on medium heat until parsley is just wilted.
Stir in whole peeled tomatoes, diced tomatoes, tomato sauce, dry oregano and dry basil. Lower heat to medium-low and let simmer until whole tomatoes begin to break down, about 30 min.
Cook pasta according to directions in unsalted water, about 10 minutes, then drain.
Stir fresh chopped basil into sauce just before serving. Enjoy!
Recipe Notes: For a heartier texture, add two chopped portobello mushroom caps to the sauce.
---
Article Credit: http://bestmedicinenews.org/recipes/heart-healthy-marinara-sauce/