Corn, Zucchini And Jalapeno Spaghetti With Parmesan Crumbs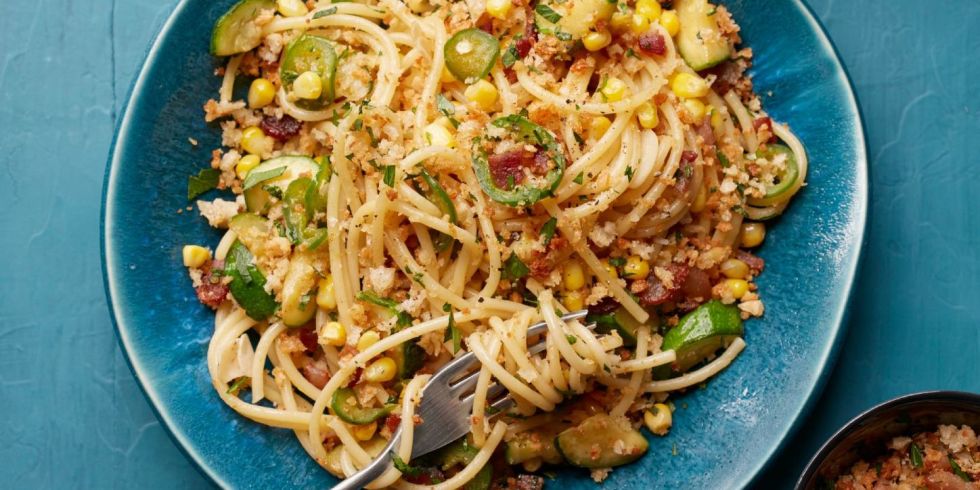 The parmesan brings a good amount of saltiness to open up taste buds and experience all the flavors.
Total Time: 0:25 Prep: 0:25 Level: Easy Serves: 4
Ingredients
2 slices bread
2 tbsp. olive oil
1/4 c. grated Parmesan
12 oz. spaghetti
Zest and juice of 1 lemon
4 oz. thick-cut smoked bacon (about 3 slices), cut into 1/4-in. pieces
2 small zucchini, cut into 1/2-in. pieces
2 jalapenos, thinly sliced (seeded for less heat, if desired)
2 cloves garlic, thinly sliced
kosher salt
black pepper
1 1/2 c. frozen or fresh corn kernels (thawed, if frozen)
1/2 c. fresh flat-leaf parsley, chopped
Directions
Heat oven to 400 degrees F. Bring a large pot of water to a boil.
While the water comes to a boil, make the Parmesan crumbs. In a food processor, pulse the bread to form small crumbs. Transfer to a baking sheet, drizzle with 1 tablespoon oil and toss to combine, then toss with the Parmesan. Roast until the crumbs are golden brown, 8 to 10 minutes.
Once the water comes to a boil, cook the pasta according to package directions. Reserve 3/4 cup cooking liquid, drain the pasta and return it to the pot. Toss with the lemon zest and juice and 1/4 cup reserved pasta water (adding more if the spaghetti seems dry).
While the pasta is cooking, cook the bacon in a large skillet over medium heat, stirring occasionally, until crisp, 6 to 8 minutes. Transfer to a paper towel-lined plate.
Wipe out the skillet and heat over medium-high heat. Add the remaining tablespoon oil, then the zucchini and cook, tossing occasionally, until beginning to brown, about 2 minutes. Add the jalapenos, garlic, 1/2 teaspoon salt and 1/4 teaspoon pepper and cook for 1 minute.
Reduce heat to medium, add the corn and cook until heated through, about 2 minutes. Toss with the pasta. Toss parmesan crumbs with the parsley and bacon and serve over the pasta.
PER SERVING 526 CAL, 13 G FAT (3 G SAT FAT), 8 MG CHOL, 242 MG SOD, 18 G PRO, 84 G CAR, 6 G FIBER
---
Article Credit: http://www.womansday.com/food-recipes/food-drinks/recipes/a51848/corn-zucchini-and-jalapeno-spaghetti-with-parmesan-crumbs/