BN Doctors' Lounge With Dr. Folasade Alli: Keeping Your Child's Heart Healthy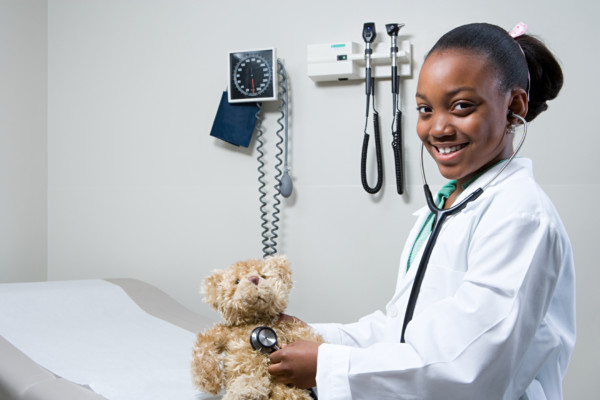 Many love to believe that our youngsters (adolescents and teenagers) are mostly prone to diseases such as chicken pox and malaria, and not the 'adult' diseases such as cardiovascular disease. Unfortunately, this is wrong…very wrong. Children are, indeed, vulnerable to cardiovascular disease right from fetal development.
The risk of a child developing a heart complication begins in the womb. The heart is one of the first organs to begin formation in the womb – usually from the 3rd week. Throughout the development of the fetus, the environment in the womb as well as the health state of the mother (for example, if the mother has torches syndrome) during the first trimester can adversely affect the baby's heart. Furthermore, diabetes and undiagnosed diabetes, as well as high blood pressure can adversely affect a growing baby's heart in the womb. Any of these can cause congenital heart defects, which may also be genetic from extra chromosomes e.g Down Syndrome.
As a mother-to-be, you can protect your child by eating right before and during pregnancy; avoiding the use of non-prescribed medication; controlling any disease (for example, diabetes and hypertension); keeping up with your immunization schedule before and during pregnancy; avoiding stress, alcohol, and cigarettes/smoke-filled environments; engaging in minimal physical activity as deemed fit during pregnancy; and ensuring good antenatal care. Also, it is well documented that a fetus that is exposure to intra-uterine growth retardation often results in the child developing metabolic disease (e.g. diabetes and hypertension) in the future.
Furthermore, the risk of cardiovascular disease increases throughout childhood and adolescence with exposure to damaging lifestyle habits such as eating a diet high in saturated fats and trans fats, lack of physical activity, smoking/excessive exposure to smoke-filled environments, and so on. It is also necessary to note that cholesterol build-up, which can cause heart disease, begins from the age of 7, therefore, making it necessary to ensure that children develop healthy habits and are raised in good environments.
From pregnancy throughout childhood, it is the responsibility of parents to look after their child's heart, and health in general. Making the necessary changes can help reduce your child's risk of developing a heart disease.
Here are some ways to foster a healthy heart for your child:
• Encourage physical activity by joining your kid. Swim together, take a walk together, and encourage your child to join a sports team at school.
• Discourage smoking and keep your youngster away from smoke-filled environments.
• Ensure that your kid is eating a balanced diet: make healthy food exciting and cool.
• Drop the extra pounds: ensure your child maintains a healthy weight.
• Ensure that your child isn't growing up in an environment that fosters excessive alcoholic drinking behaviours.
---
About Dr. Folasade (Olaitan) Alli
Dr. Folasade Alli is a Cardiologist who has over 30 years of experience in the field. She is a member of the Society for Quality in Healthcare in Nigeria (SQHN), a Fellow of the National Postgraduate Medical College of Nigeria, an International Associate Member of the American College of Cardiology, and so on.
Her clinical practice comprises of 16 years at top management level in Lagoon Hospitals where she was the Head Consultant Cardiologist and Specialist Physician, and the Head of Internal Medicine, the Health Assessment Clinic, and the Clinical Research Unit.
She currently manages Lagos Executive Cardiovascular Clinic with a team of multi-specialists including a paediatric cardiologist, cardiothoracic surgeon, family physician, general surgeon, two neurosurgeons and neurologists, nephrologist, anaesthetist, paediatrician, orthopaedic surgeon, a laboratory scientist, radiologist and radiographer, specialist and registered nurses, and 2 GPs.
---
Story Credit: https://www.bellanaija.com/2017/07/bn-doctors-lounge-dr-folasade-alli-keeping-childs-heart-healthy/