Healthy Table: Apple Walnut Bread is Quick and Easy for the Holidays and Good for You Too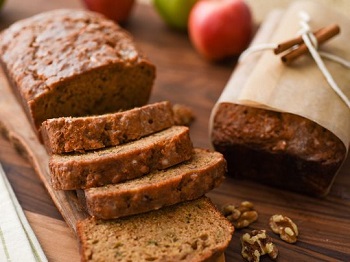 Today's Apple Walnut Bread makes a perfect accompaniment to any holiday table, or can be served as a breakfast side for overnight guests. What I love about quick breads is they can be made ahead of time, frozen, and ready to go when needed – crucial during this hectic season.
Our bread features a generous amount of fiber-rich apples. Some of that fiber is called pectin, a heart-healthy soluble fiber that can help lower levels of LDL or bad cholesterol in the blood.
Beyond the heart-health benefits, the American Institute for Cancer Research (AICR) highlights some potential cancer-reducing effects of apples. Interestingly, that same LDL cholesterol-lowering pectin helps bacteria naturally found in the gut to produce compounds that protect colon cells from cancer.
Apples also contain a variety of phytonutrients, or plant nutrients, being studied for their anti-cancer effects. According to the AICR, eating one or more apples a day was associated with a lower risk of lung and colon cancer in several large studies. To get the most phytonutrients, eat the apple peel too.
We used Granny Smith apples in today's recipe. Apples best suited for baked goods should resist breaking down and forming a mushy mess. Jonagold, Honeycrisp, Braeburn, Mutsu (also known as Crispin), Pink Lady (also known as Cripps Pink), and Winesap would also work well in today's quick bread.
Apple Walnut Bread
Makes: two loaves (12 slices each) / Prep time: 20 minutes / Total time: 1 hour 20 minutes
Floured baking spray
3 cups shredded apple (about 3 large apples)
¼ cup reserved liquid from apples
1 container (5.3 ounce) low-fat plain Greek yogurt (about  ⅔ cup)
⅓ cup canola oil
1 ¾ cup granulated sugar
2 large eggs
1 tablespoon vanilla extract
1 ½ cups all-purpose flour
1 ½ cups white whole-wheat flour
2 teaspoons baking powder
1 teaspoon baking soda
1 tablespoon ground cinnamon
¼ teaspoon salt
½ cup walnuts, chopped
Glaze
½ cup powdered sugar
1 ½ tablespoons reserved liquid from apples
Preheat oven to 350 degrees. Spray two 8-by-4-inch loaf pans with baking spray; set aside. Grate apples, enough to yield 3 cups. Squeeze grated apples well, using a muslin or fine net cloth and reserve all the liquid as some is used in the batter and the glaze. In a large bowl, beat ¼ cup reserved apple juice, yogurt, oil, sugar, eggs, and vanilla with an electric mixer on medium speed.
In a separate bowl, combine all-purpose flour, whole-wheat flour, baking powder, baking soda, cinnamon, and salt. Stir flour mixture into sugar mixture until just moistened, being careful not to over mix. Gently fold in shredded apple and walnuts. Bake for 45 to 55 minutes or until a wooden pick inserted in center comes out clean. To prepare glaze: Combine powdered sugar and reserved 1 ½ tablespoons apple liquid; stir until smooth. Spread glaze over top of bread while warm. Cool bread in pans on wire rack for 20 minutes. Remove bread from pans and cool completely on wire rack.
184 calories (24% from fat), 5 grams fat (1 gram sat. fat, 0 grams trans fat), 32 grams carbohydrates, 3 grams protein, 115 mg sodium, 16 mg cholesterol, 37 mg calcium, 2 gram fiber. Food exchanges: 2 starch, 1 fat.
---
Story Credit: https://www.freep.com/story/life/food/recipes/2017/12/17/healthy-table-apple-walnut-bread/951873001/