A Nutritionist's Top Pantry Staples for Healthy Eating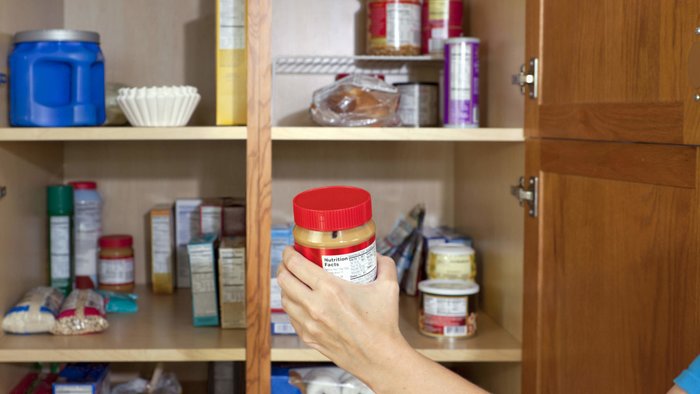 Did you know that a well-stocked pantry can help you lose weight and improve your health? That's because with the right foods on hand, preparing meals is a cinch and the more home-cooked meals you eat, the less calories, saturated fat and added sugars you'll eat. One study reported that rates of overweight and obesity were up to two and a half times greater when families ate just one dinner per week at a restaurant, as take-out or a home delivered meal.
Here are eight everyday essentials to keep on hand to whip up healthy meals at a moment's notice:
Dried Herbs and Spices
Dried herbs and spices rev up flavor without adding calories, sugar or fat. What's more, they pack in more antioxidants than many other foods. In fact, one study analyzed over 3,000 foods and concluded that cloves, allspice, oregano, ginger, cinnamon, turmeric, basil, thyme, sage and rosemary had some of the highest antioxidant counts of all foods.
Broths and Stocks
Keep low-sodium vegetable, beef and chicken stock and broth on hand so you can easily put together soups, sauces and stews. Calorie-poor broths and stocks are a speedy way to add flavor and richness to your meals while keeping calories in check.
Pulses
Pulses include dry beans, peas, chickpeas, cow peas, and lentils. Low in calories and fat, but high in protein, complex carbohydrates and fiber, they're nutritional powerhouses. And research indicates that they may help you lose weight. One recent analysis found that eating a serving a day of pulses (about ½ cup cooked) could help you shed pounds.
Use them in soups, salads, and to make creamy dips. Dried pulses require pre-soaking, but canned varieties can be incorporated into meals instantly.
Whole Grains (brown rice, whole-wheat pasta, oats, quinoa, barley, bulgur)
Whole grains can help you make healthy meals in minutes and these grains may reduce the risk for heart disease, certain cancers and help you maintain a healthy weight. Make sure you have plenty of them in your kitchen cupboard when time is tight and you want to eat right.
Natural Sweeteners
When you need a touch of sweetness, look for one that has beneficial antioxidants like honey, molasses, date or prune purees. For baking, opt for a natural stevia and sugar blend (i.e., Truvia Cane Sugar Blend or Truvia Brown Sugar Blend) that can be used to replace sugar in your favorite recipes and has 75 percent fewer calories than table sugar. Try this delicious Banana Date Walnut Bundt Cake to wow your guests this holiday season!
Canned Tomatoes and Tomato Sauce
Armed with cans of whole, diced, and crushed tomatoes and pureed tomato sauce, you can create an endless variety of pasta sauces and soups. Canned tomatoes for instance provide a nutritional advantage over fresh because crushing and cooking releases more lycopene, a carotenoid that provides anticancer and heart-health benefits.
Healthy Oils
Choose plant-based oils that are low in saturated fat like olive, canola, sesame or sunflower oil. I use extra virgin olive oil for salad dressings and dipping, canola oil for cooking and baking because of its light, neutral flavor and sesame oil when I am making an Asian dish. These types of oils are all considered heart-healthy because they are lower in saturated fat compared to butter, lard, palm or coconut oil.
Nuts and Nut Butters
Keeping a variety of nuts and nut butter can amp up the texture and flavor of dishes at a moment's notice. Rich in heart healthy fats, protein, fiber and antioxidants, nuts can help reduce risk for chronic diseases and may help you whittle your waistline. Studies show that people who eat a handful of nuts everyday are leaner that those who don't.
Condiments
No pantry is complete without condiments. Ensure that recipes will be full of flavor without loading up on calories by keeping a full supply of mustard (yellow, Dijon, spicy brown), soy sauce (opt for low sodium versions), vinegar (red wine vinegar, balsamic vinegar, apple cider vinegar), hot sauce, Worcestershire and cocktail sauce.
---
Story Credit: https://www.huffingtonpost.com/entry/a-nutritionists-top-pantry-staples-for-healthy-eating_us_5a0f249be4b023121e0e923a