7 Steps To A Heart-Healthy Family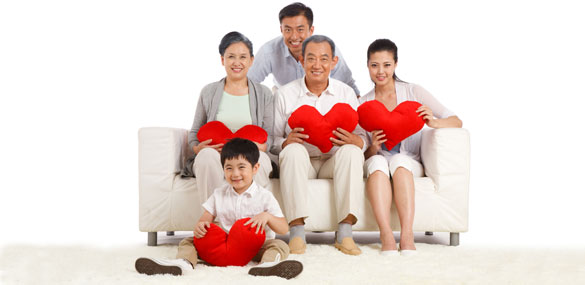 You can keep heart disease off your doorstep. It's easier than you think to get your family heart-healthy. And, nothing could be more important.
First, let's talk about the men in your family. While heart disease is the No. 1 killer of men and women in the United States, men usually develop heart disease 10 to 15 years earlier than women. In fact, it's responsible for one in every four male deaths. Even scarier, half of all men who die suddenly from heart attacks had no previous symptoms. But there's power in prevention. Knowing heart disease risk factors is the first step, and they happen to be the same for men and women. (However, keep in mind that while men and women share many risk factors for heart disease, a few risk factors are unique to women.) Heart disease risks for everyone in the family include:
Smoking
High blood cholesterol
High blood pressure
Diabetes and prediabetes
Being overweight or obese
Lack of physical exercise
Excessive alcohol use (drinking more than 15 drinks a week for men and eight drinks per week for women, or binge drinking more than five drinks for men and more than four drinks for women within about two hours)
Family history of heart attack or heart disease
Many heart disease risk factors are preventable in any age group. But where should you start?
Build a foundation for heart health with these seven tips:
Review your food habits and begin to rotate out unhealthy choices, like sugar- packed soft drinks, high-fat snacks and foods high in salt.
Buy nutrient-rich fruits and vegetables, low-fat dairy products, whole grain foods, like whole-wheat pasta and breads, and seafood.
Don't stop at fast-food restaurants, and eat more meals at home with everyone at the table.
Stop smoking or ask your healthcare provider to recommend a program to help you or another family member quit. (Learn more about our smoking cessation tools.)
Make portion sizes smaller, even for the biggest family members.
Match your calorie intake with the amount of physical activity you do to manage weight.
Set aside 15 minutes a day for physical activity with family members whenever possible, and steadily increase the intensity and amount of time you exercise.
The first step is to get the entire family involved. It's motivating when everyone is working toward the same goal. It's clear that any family member can benefit from focusing on making meals at home more heart-healthy. For example, childhood obesity has more than doubled in children and quadrupled in adolescents in the last 30 years. Obese children are more likely to have some of the heart disease risk factors mentioned above, and more likely to be obese adults with those same health risks.
You can also ask your healthcare provider to explain ways to make your family's heart health a priority. While there are many things you can do at home to focus on heart health, each family member should also consider screening tests for heart disease risk factors.
---
Story Credit: https://www.franciscanhealth.org/news-and-events/news/7-steps-heart-healthy-family