3 Delicious Summer Cocktail Recipes That Also Improve Your Heart Health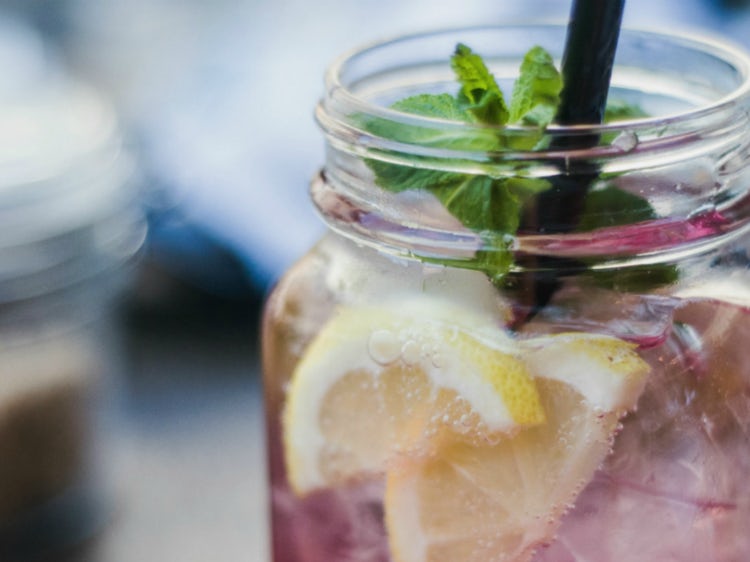 Exercise and a low-fat diet aren't the only ways to keep your heart healthy. Citrus cocktails help, too! "Oranges, grapefruits and limes make incredibly refreshing drinks that are packed with so much nutritional goodness they're hard to pass up!" raves wellness coach Jules Aron, author of Zen and Tonic. Even small amounts of citrus juice have enough vitamin C, antioxidants and potassium to help lower your cholesterol and blood pressure, while alcohol in moderation helps prevent blood clots. Being heart smart has never tasted so good!
Lower your blood pressure with an Orange-tini.
Savoring this refreshing sipper regularly helps keep blood pressure in check. "Oranges are rich in vitamin C and antioxidants that help slow the buildup of plaque in your arteries," Aron says. Plus they have potassium to help counteract excess salt in your body, which helps lower your blood pressure!
Ingredients: 2 oz. fresh orange juice; ½ oz. fresh lemon juice; ½ oz. lemon-honey simple syrup; 3 oz. vodka.
Directions: Add all ingredients to cocktail shaker filled halfway with ice. Shake well, then strain into glass.
Baby your heart with a Grapefruit Paloma.
This bubbly drink is more than delicious — it's rich in nutrients called flavanones that boost circulation and keep blood vessels elastic so your heart doesn't have to work so hard!
Ingredients: 2 oz. fresh grapefruit juice; 1 ½ oz. tequila; Lemon-honey simple syrup (to taste); 4 oz. sparkling water
Directions: Add juice, tequila and simple syrup to glass with ice. Top with sparkling water; gently stir to combine.
Note: On medication? Talk to your doctor about any potential interactions with grapefruit juice before enjoying this cocktail.
Lower your cholesterol with a Matcha Limeade Cocktail.
"This sweet-tart drink pairs lime — which has vitamin C and antioxidants to prevent artery hardening — with matcha, a potent form of green tea," Aron explains. And since matcha boasts 10 times as many antioxidants as regular green tea, it has the power to help lower your "bad" LDL cholesterol and triglyceride levels with every sip!
Ingredients: 4 oz. water, ½ tsp. matcha green tea powder; 2 oz. fresh lime juice; Lemon-honey simple syrup (to taste); 1 ½ oz. gin
Directions: Add water and matcha to cocktail shaker; stir until dissolved. Mix in lime juice and simple syrup. Transfer to tall glass with ice, then top with gin. Gently stir to combine.
---
Story Credit: http://www.womansworld.com/posts/healthy-citrus-cocktails-136559