Screen My Heart Protect My Passion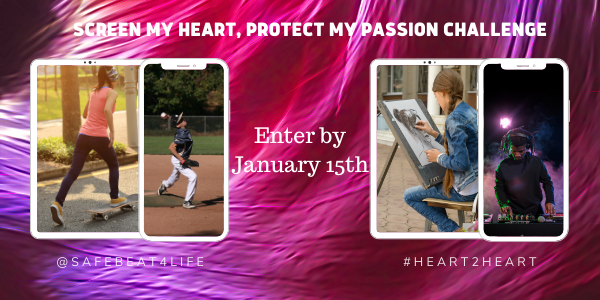 Calling all Middle & High Schools students!
We want you to participate in our "Screen My Heart, Protect My Passion" Challenge!  (Anyone is welcome to participate.)
Did you know that over 7,000 youth die every year due to sudden cardiac arrest? No?! That is exactly why this awareness challenge is needed.
Sudden Cardiac Arrest is the #1 killer on school campuses and the #1 killer of student athletes. This is most often due to undiagnosed heart conditions. The good news is that most heart conditions are detectable and treatable.
Preventative heart screenings can help identify those at risk of an underlying cardiac condition. A simple and painless test could save your life or the life of someone you know.
You can help reduce these numbers by:
raising awareness
getting a heart screening &
learning CPR and how to use an AED.
Why this challenge?
We value the fact that everyone is different and has their own unique purpose. We want to highlight those personalities, talents, and passion while raising awareness around Sudden Cardiac Arrest in youth. After all, how can someone grow up and fulfil their passion if their heart isn't healthy? We want to help ensure that young people are safe and equipped to make their impact on the world.
Take the "Screen my heart, protect my passion" challenge and raise awareness today!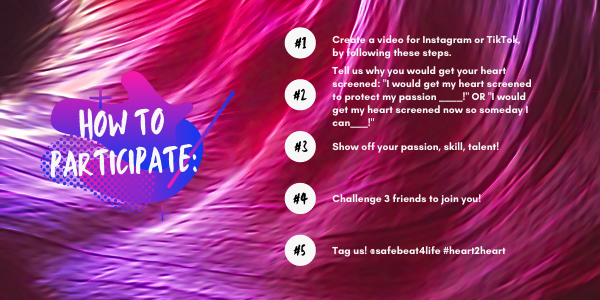 *Submitted videos may be shared, posted to our website, used in a promotional video by SafeBeat, or used in the news. If you don't want your video included, please inform us at info@safebeat.org.