UMass' Jaylen Brantley Wants to Raise Awareness for Hypertrophic Cardiomyopathy, Push for more EKGs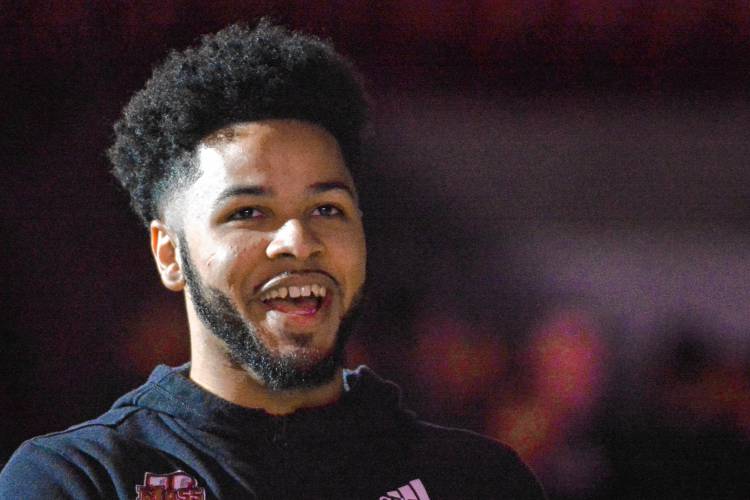 AMHERST — Somewhere on another campus, there could be a Division I athlete who has hypertrophic cardiomyopathy and doesn't realize it.
The condition carries with it the risk of sudden death from cardiac arrest, but often the first symptom revealing it is a heart attack.
Many if not most schools don't require or even offer electrocardiagram's as part of the health screening for incoming athletes. UMass guard Jaylen Brantley would like to help change that.
Every incoming athlete joining UMass' athletic department gets an EKG as a precaution. Brantley transferred from Maryland, which doesn't require EKGs. His test at UMass led to the revelation that he has hypertrophic cardiomyopathy, which is preventing him from continuing his basketball career.
"There's no symptoms. I didn't feel sick. My heart wasn't hurt. I never passed out. You never know. I definitely want to be an advocate for the disease I'm going through. There's a lot of kids in college athletics who don't know they have it. Just like me. I want to be an advocate. Every university in American should do EKGs. You never know what can happen. I'm just trying to turn the whole situation into a big positive."
Angela Cayode, Brantley's mother, thought bringing awareness to the disease, which affects one in 500 people according to US News and World Report, might be her son's legacy.
"If this is going to be the end of his career, it has to mean something and be about something. It has to count. He has to bring awareness about this. It's his responsibility to save others' lives. There's not enough awareness out there," she said. "The NCAA is making billions of dollars off these kids. They can't give them one test? One test that could save their lives and reshape their futures?"
A 2016 New York Times editorial advocating for more testing for collegiate athletes said other sports organizations around the world require EKGs:
"Several important organizations, including the European Society of Cardiology, the International Olympic Committee and FIFA, soccer's governing body, recommend EKG testing for competitive athletes. But in the United States, EKG screening is reserved only for professional athletes. (Italy and Israel mandate EKGs for collegians also.) It is a disparity that needs to be examined closely. Nothing suggests that college athletes are at any lower risk of sudden cardiac death than professionals."
UMass team physician Pierre Rouzier said funding, equipment and man power can be a challenge at some schools, especially those that aren't in easy proximity to major hospitals. Rouzier, a nurse practitioner and medical student volunteer their time to administer the tests and refer cases in question to Dr. Michael Willers, a cardiologist in Holyoke. When necessary athletes are sent for MRIs to either Baystate Medical Center in Springfield or Mass General in Boston.
"In order to do this you have to have the availability of all the extra tests and cardiologists to follow up in a hurry," Rouzier said. "The worst part of screening is holding people out for something that turns out to be nothing."
According to Rouzier, Brantley isn't the only UMass athlete the school discovered who had the condition, just the only one who made his status public.
---
Story Credit: http://www.gazettenet.com/Brantley-wants-to-be-an-advocate-for-more-cardiac-testing-for-college-athletes-13900207