Push to Test More At-Rsk Athletes for Potentially Fatal Heart Conditions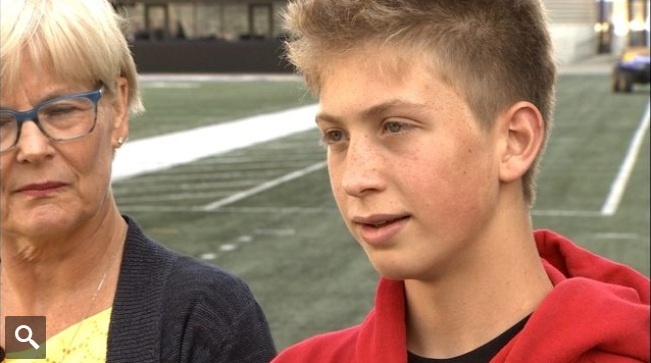 A controversial study questions whether the tests for potential heart problems are worth the cost. Researchers studied thousands of young soccer players for 20 years in the United Kingdom and found that of the eight who died of cardiac arrest, six had been screened.
But here in Washington state, there is a move to test more young athletes to prevent the deaths.
Andrei Whyte, a 15-year-old cross country runner from Ballard High School, looks like the picture of health. But he was running with a ticking time bomb in his heart.
"No, I was never told I was in a risk group," he said. "It was because of the screening from Nick of Time. If I hadn't had that, I don't think I would have known I had a heart condition at all."
Even his mother, a cardiac nurse, didn't suspect it.
"Just like most kids, we go every year and he has the whole checkup," said his mother, Sharon Whyte.
But Whyte never had an electrocardiogram, or EKG, until last fall thanks to the organization, Nick of Time.
Darla Varrenti's athletic, youngest child, Nick, died suddenly in 2004.
"He was 16 years old when he had his sudden cardiac arrest," Varrenti said.
She helped start Nick of Time to bring awareness to testing that can find undiagnosed heart disease in young athletes.
"He passed his sports physical five months before he died," Varrenti said. "If they would have taken a picture of his heart through a 12 lead EKG or through an ECHO, we would have found out what was going on with his heart."
It was at a Nick of Time screening that doctors spotted the danger lurking in Andrei Whyte's heart.
"So it's a bunch of heart beats," he said. "And she looks at it for about 10 seconds, and she's like, 'I'll be right back.' I sit there for like half a minute, maybe. Then three other doctors sit down. My mom comes over and sits down. And I'm like, okay. This isn't normal. And they were like, 'okay you have a condition called WPW, which is Wolff-Parkinson-White."
Dr. Jonathan Drezner of UW Medicine Sports Medicine Center helped diagnose Andrei's condition.
"I believe that a good portion of our athletes should get an EKG," Drezner said.
He said about 70 percent of young athletes who die of sudden cardiac arrest play football, basketball or soccer. Males are eight times more likely than females to die. African-American athletes are at highest risk.
Drezner believes the hearts of those athletes should be screened every two years, beginning when they are 14 years old.
"Some of the heart conditions that we're looking for don't always manifest themselves in early adolescence," he said. "Some of them show up in early adolescence and even early adulthood."
Whyte's heart was repaired last December.
"And I've been doing activities," said Andrei. "So I feel really good."
His mother looked on. "And I feel very lucky," she said, beaming.
Doctors tell him his heart should now last a lifetime.
---
Story Credit: https://www.kiro7.com/news/local/push-to-test-more-at-risk-athletes-for-potentially-fatal-heart-conditions/822730774
---
Since you're here, we have a small favor to ask. Requests from schools and districts for our screening services are growing, which means that the need for funds to cover the cost of those services is also growing. We want to make our services available to those who request it and beyond, so you can see why we need your help. Safebeat heart screenings take a lot of time, money, and hard work to produce but we do it because we understand the value of a child's life, PRICELESS!
If everyone who reads this likes it and helps fund it, our future would be more secure. For as little as $1, you can support Safebeat and it only takes a minute. Make a contribution. -The SafeBeat Team