Sudden Cardiac Death: The Silent Killer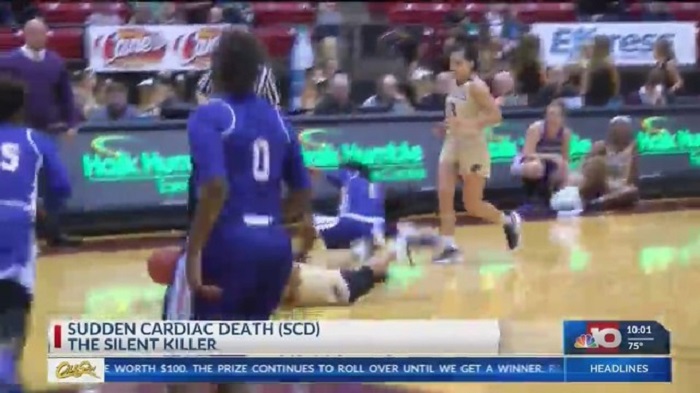 MONROE, La. - They run, they sweat, they play ball, but one out of every 54,000 NCAA athletes a year fall victim to an unexpected illness. Sudden cardiac death also known as SCD.
"When your heart doesn't beat properly and it would cause your heart to quit pumping blood and you would honestly fall on the ground and no longer be among the living," said Dr. John Lipka.
This is the case for athletes like Hank Gathers and Pete Maravich, both suffered from SCD and died.
So ULM teamed up with St. Francis Medical to test their athletes to make sure they're as healthy as possible,
"This is giving us the opportunity to find things before they happen that we can prevent rather than to deal with the consequences after they occur," said Dr. Lipka.
NCAA Men's basketball accounts for nearly 20% of all cardiac death cases and when you throw in football, the two sports combined account for nearly 50% of SCD cases.
There aren't many common warning signs for SCD and ULM freshman football player, Colby Suits says it's something you may easily ignore.
"You don't really think about it a whole lot to be honest with you, you just go out there and play. I've done it my whole life," said Suits.
When it comes to athletes, concussions are usually the one thing most worry about. Suits says SCD isn't something to be swept under the rug.
"You got to watch out for concussions and stuff like that but you definitely got to always make sure your healthy with your heart wise. I mean you don't want to die. I mean if you get one concussion you're probably not going to die but this is really serious stuff," Suits said.
So both Dr.Lipka and Suits say to take all the necessary precautions to protect yourself and your health.
SCD is most common in African American male basketball players. Dr.Lipka advises all athletes to make sure they get regular check ups with their healthcare provider.
---
Story Credit: https://www.myarklamiss.com/news/local-news/sudden-cardiac-death-the-silent-killer/1297347995
---
"Since you're here, we have a small favor to ask. Requests from schools and districts for our screening services are growing, which means that the need for funds to cover the cost of those services is also growing. We want to make our services available to those who request it and beyond, so you can see why we need your help. Safebeat heart screenings take a lot of time, money, and hard work to produce but we do it because we understand the value of a child's life, PRICELESS! 

If everyone who reads this likes it and helps fund it, our future would be more secure. For as little as $1, you can support Safebeat and it only takes a minute. Make a contribution. -The SafeBeat Team"