Sturbridge Student Grateful After Defibrillator Used To Save Her Life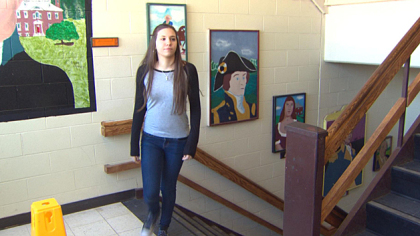 STURBRIDGE (CBS) – On this Valentine's Day, a Sturbridge student shared the story about her heart, which stopped two years ago when she went into cardiac arrest.
Fortunately when it happened she was in perhaps the second best place she could have been after a hospital – her school.
On Tuesday she said thanks with the help of a Massachusetts company that's in the lifesaving business.
"I was walking up the stairs between classes, and then I blacked out, and that's all I remember until I woke up in the hospital," says Kathryn Henry.
It was just two years ago and Kathryn was just 14, a student at Tantasqua Junior High in Sturbridge.
School nurse Jackie Berube was in her office, and rushed to the stairwell when she got the news.
"She was still with us. She was still breathing, but then I did lose her breathing and her pulse," Berube said. "Her heart stopped beating."
Meanwhile, science teacher and paramedic Keith Ventimiglia joined the effort.
"I took one look and realized she was actually one of my students who I had just had in class," he told WBZ-TV.
With the clock ticking, they realized the school's AED, automated external defibrillator, was the only hope.
"We were able to shock her once, and she came back," says Berube.
"This is an absolute, essential part of keeping our students safe," adds Ventimiglia.
On Tuesday Kathryn, who is now a sophomore, returned to her junior high to help deliver a new defibrillator, courtesy of Zoll Medical, the only Massachusetts manufacturer of the machines.
It's all part of the build up to a new state law requiring schools to have defibrillators.
"We're donating one AED per month for the next 18 months to schools to support this new legislation.  So we're donating the first one to the school," says Gene McCauliffe from Zoll.
Kathryn now has a tiny defibrillator implanted in her chest and is back doing all her old activities.
"It was just a lot of luck, I guess. Everything worked out," she says.
After the cardiac arrest, doctors found the cause was genetic. And since that discovery, Kathryn's father and younger sister have also been diagnosed and are being treated.
The new state law requiring defibrillators in schools goes into effect next year.
---
Story Credit: http://boston.cbslocal.com/2017/02/14/student-collapses-revived-aed-sturbridge/