Farmington Teacher On Mission Of Passion To Teach Public CPR Class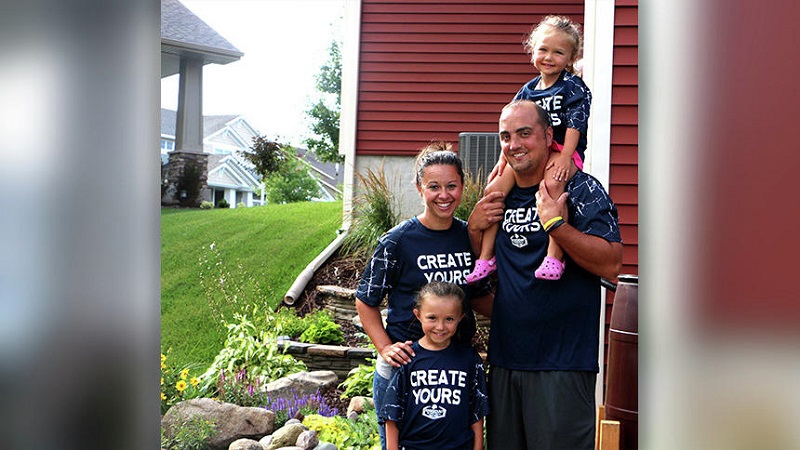 Living through a life-altering health scare turned into a beacon of life for one Rosemount family.
Five months ago Chris Orr suffered a heart attack on March 3 when he was teaching gym class at Rosemount High School.
Fellow Rosemount High physical education teacher Tracy Cassano saved her colleague's life when she acted swiftly with life-saving skills to resuscitate Orr. Cassano was honored by earning a Lifesaver of the Year award from Dakota County's Emergency Medical Services.
Feeling healthy and strong today, Orr, 33, said his heart is filled with gratitude for his friend and colleague. He is fortunate to be alive and said he is personally experiencing a renewed optimism about all aspects of life because he understands the fragility and sacredness of life.
"I am feeling very good today — you kind of put everything in perspective these days and try not to worry about so many little things and just go with the flow and live every day to the fullest," Orr said.
Posing for a photograph in the family's Rosemount backyard, all the family wear navy blue T-shirts with the words "Create Yours" sentiments on the front. This message serves as a motivational life slogan for his students.
"It is all about creating your own legacy and story every day and working toward that each day," Orr said.
On a mission
His wife Amber is now on her own mission to start a legacy of saving lives. The last five months she has been spreading the message of how everyone needs to become certified on how to save lives. She has partnered with the Rosemount police to offer all Rosemount residents the opportunity to take CPR classes for nearly free.
Amber, 33, believes everyone should be ready to roll up his or her sleeves when an emergency happens to save the life of a family member, friend or stranger.
Since Chris teaches health and physical education classes, he understands and teaches youth the value of living an active life. He wants his students to work to take care of their minds and bodies. Outside the classroom, he inspires youth to win as the head girls varsity basketball coach.
There were no warning signs of heart troubles for Orr since he carried no history of family heart conditions. Orr was fortunate he did not need open heart surgery.
"There have been several other coaches within the same age frame that this has happened to recently and so it appears to be more common than some think," Amber said. She feels fortunate her husband is living and she is working hard to pay her gratitude forward.
Rosemount Police Department will partner to certify as many Rosemount citizens to learn how to perform basic life support. Twenty-nine Rosemount residents signed up to take CPR classes during Leprechaun Days. The classes will be offered this fall and into the spring.
Rosemount police officer Katie Ruesink, previously a paramedic, will teach the CPR classes through the American Heart Association via the program called Basic Life Support Provider.
Amber's heart's desire is to save lives in the communities where they live and work. She worked to get teachers to become CPR certified in the Farmington School District, where she teaches first grade at North Trail Elementary.
Learning to save lives
A few months ago she talked with Jay Haugen, superintendent of Farmington Public Schools, and expressed her desire. That was the beginning of many educators learning how to save lives in her neighboring town.
"All the principals who were not certified went through a brief training, along with the staff last March and April," Orr said. "I also suggested substitute teachers who come into buildings to teach for the day check in and learn how to use the AED (Automated External Defibrillator) machine stored in each school building."
After become educated about heart health, Orr said the American Heart Association reports 70 percent of Americans feel helpless to ask for CPR training. Some of those men and women have learned CPT years ago but have forgotten the skills or their certification has lapsed.
"Eighty-eight percent of cardiac arrests usually happen at home," Orr said.
Rosemount residents who want to sign up and take CPR classes can register online with Rosemount police community resource officer Danielle Waage at Danielle.waage@ci.rosemount.mn.us.
Waage said this is an important public health issue in Rosemount and any community.
"I know several coaches who have gone into cardiac arrest at young ages, and so it is important that we think about how to protect our best health," Waage said. She has relied on using her CPR skills several times during medical calls.
"Cardiac arrest is scary and more common than people think, and it is happening at younger ages so it is important to know how to properly do CRP before officers arrive on the scene," Waage said.
Keeping her heart's desire mission moving forward, Amber plans to lobby legislators to pass a state law to require that all Minnesota teachers learn CPR training. This requirement could benefit communities across the state.
"I would like to say how important it is, and it is what I consider to be a basic life skill that is so important to know because you never know when a heart attack will happen and when you will have to use it," she said.
---
Story Credit: http://www.republican-eagle.com/news/4309375-strong-hearts-farmington-teacher-mission-passion-teach-public-cpr-class-alongside