South Florida Man Spreads Word About EKGs after Son Dies of WPW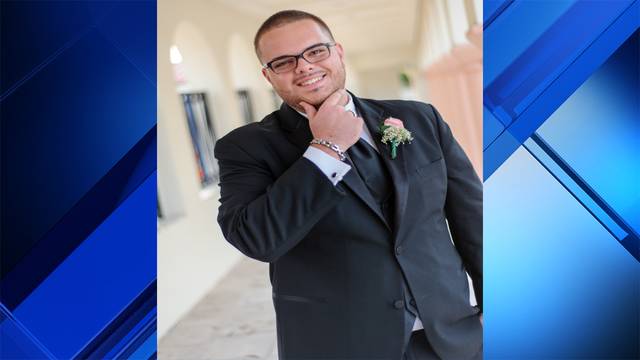 MIAMI - Fouad Mobassaleh was a friend to everyone. From his co workers to his classmates at Westminster Christian School in Palmetto Bay, the Miami native brought that same enthusiasm when it came to the family business.
By the time he was 23, Fouad was running the accounting department for Elegant Beauty Supplies, the largest retail beauty products, wigs and hair extensions supplier in the United States.
"He was very smart -- almost too smart," joked Jessica Mobassaleh, who always admired her brother's work ethic and ability to be friends with everybody.
"He was also extremely athletic. He used to be overweight and lost 80 pounds," she added. "He rode bikes and played professional paintball. He seemed perfect."
In June 2013, that all changed when the 23-year-old started to get fatigued. His skin turned pale. At times, his heart would beat so fast that he thought it was going to explode.
After two trips to the emergency room at Baptist Hospital and an EKG, doctors confirmed that he was suffering from Wolff-Parkinson-White Syndrome, or WPW, a congenital heart disorder in which an extra electrical pathway between the heart's upper and lower chambers causes a rapid heartbeat.
The extra pathway is present at birth. Although there are fewer than 20,000 cases per year and death is rare, WPW can be fatal if it isn't treated with medication or catheter ablation.
Fouad's father, George Mobassaleh, says after his son was released from Baptist Hospital, he was referred to a cardiologist, who examined him on July 3, 2013, and July 16, 2013.
Two weeks later, on July 29, Mobassaleh says he was at home, preparing to leave the country on business. His son was also there, laughing and smiling on the couch when it happened.
"He said, 'Oh my God!'" recalled Mobassaleh, who said that he thought Fouad was talking on the phone with a friend. "His whole body was shaking. He stood up and then sat back down on the couch, closed his eyes and he was gone."
Mobassaleh said he tried to administer CPR but it was too late.
"He was my buddy. He was my friend, and we lost him, Mobassaleh said.
In the days following the death of his only son, Mobassaleh would learn about a catheter ablation -- a medical procedure that could have saved his son's life.
"He could have been here if they would've told us what they were supposed to tell us," Mobassaleh said.
Mobassaleh is referring to Dr. Daniel Cassis, the cardiologist who, according to a medical malpractice lawsuit filed in 2014, examined Fouad on two separate occasions before his sudden death.
According to the lawsuit, which was filed in Miami-Dade County, "Cassis was aware that Fouad had WPW and knew that if he developed cardiac symptoms, WPW could cause his death."
The lawsuit also alleges that "Cassis knew or should have known that Fouad was in need of cardiac ablation."
But lawyers for Mobassaleh claim Cassis never referred Mobassaleh's son to an electrophysiologist, who could have performed the ablation.
"Instead of doing the right thing and saying, 'You know, I think about it in retrospect, and I messed up. I should've referred him to an electrophysiologist.' He (Cassis) claims that he did refer him to one and Fouad didn't go," said attorney Gary Fox, who also says medical records refute the claim made by Cassis.
The Mobassaleh family reached a confidential settlement with Cassis and Baptist Hospital. Local 10 News attempted to contact Cassis and his legal team on multiple occasions, but calls and emails were not returned.
Through a spokeswoman, Baptist Hospital issued the following statement to Local 10 News:
"We extend our deepest sympathies to the Mobassaleh family. Due to patient privacy laws, we cannot comment on specific cases. Ensuring that our patients receive the best possible care is our priority. To that end, we constantly review our processes and policies as well as individual cases in order to make improvements, and did so with this case.
"Dr. Daniel Cassis is no longer employed by Baptist Health Medical Group. He currently has affiliate privileges at Baptist Hospital as a private practitioner."
Now, nearly five years after Fouad's death, the Mobassaleh family has partnered with the Heart Program at Nicklaus Children's Hospital in an attempt to save lives throughout South Florida.
In February, more than 100 doctors gathered in Brickell for the second annual Fouad Mobassaleh Memorial Symposium. The two-day event at The East hotel focused on sudden cardiac arrest in children and teenagers. Doctors who attended the symposium were stunned by Fouad's story.
"It infuriated us," said Dr. Ronald Kanter, who is the director of electrophysiology at Nicklaus Children's Hospital and performed countless ablations on children who have been diagnosed with WPW. "It was very easy for us to feel the family's pain, but it also motivated us to champion their cause and take the ball and run with it."
"This was brought about by an unfortunate event," said Melissa Olen, a nurse practitioner who attended the symposium. "Nicklaus Children's Hospital and its urgent care facilities have provided free EKGs for almost 20,000 children."
George Mobassaleh says he's now on a mission to save lives.
His goal is to provide free EKGs to thousands of children who attend public and private schools in Broward and Miami-Dade counties.
"I have so much pain and shock," Mobassaleh said. "I don't want anyone to see what I saw. There's so much pain and grief."
In 2016, the 18-year-old son of a Miami Beach police detective, Dwayne Mitchell, died from WPW after falling into cardiac arrest and then a coma.
Mitchell's death happened two years after 11-year-old Breanna Vergara collapsed during dance practice. After her death, doctors discovered she had WPW, which can only be diagnosed through an EKG.
---
Story Credit: https://www.local10.com/health/south-florida-man-spreads-word-about-catheter-ablations-ekgs-after-son-dies-of-wpw