A Second Chance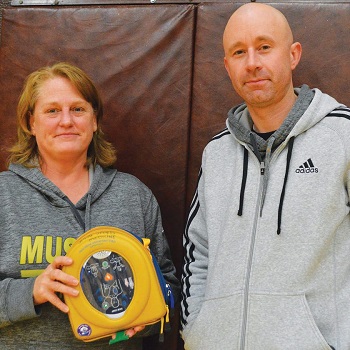 MARSHALL — Without immediate treatment, nine out of 10 victims of sudden cardiac arrest (SCA) lose their life. It's a leading cause of death and a major health problem in the United States. But when bystanders intervene by giving cardiopulmonary resuscitation (CPR) and using an automated external defibrillator (AED), survival rates can double or even triple.
On Sunday, sports medicine staff from Southwest Minnesota State University and Wayne State College joined a handful of others in saving basketball referee Jeff Schroder's life.
"Your chances of having CPR be successful are really small — I think it's like 10 percent — unless you can defibrillate within three minutes," SMSU head athletic trainer Laura Crowell said. "So my staff, we have one with every person at every venue. There was an AED on the bench, and as soon as we lost a pulse, we had the AED there."
An AED is a device that allows bystanders to provide lifesaving treatment to a cardiac arrest victim. When opened and switched on, the device gives verbal instructions to the user so that a lifesaving shock can be administered.
"It starts talking to you right away and tells you what to do," Crowell said.
The device tells the user to remove clothes from the patient's chest and then where to place the pads before it accesses the victim's heart rhythm and determines whether a shock is required or not.
"This one costs about $1,000," Crowell said. "We deployed it (on Sunday), so it's about $150 to replace the battery."
Crowell added that no one could put a price on saving a life.
"I'm really going to make a pitch that you have no idea how it feels until you realize how intense that kind of situation is," she said. "I just can't stress enough how important it is to have (the AEDs) on hand. And money should never be a barrier for not having them."
Years ago, schools and other public facilities began acquiring the lifesaving device. Many would argue that there still aren't enough placed in public places.
"I didn't realize until talking with (SMSU athletics communication director) Kelly Loft that they don't have them at a lot of establishments in Marshall," Crowell said. "He was telling me that there were places that work with a lot of people and they don't have them."
Crowell, who took over as head athletic trainer 22 years ago — after former trainer R.A. Colvin died — said the first AED that SMSU purchased was roughly $1,200. While some devices are installed as wall units, Crowell said the original model was "in a suitcase and kind of clunky, super expensive and not easy to use."
Crowell said she spotted the portable type of AED while at a hockey game.
"I think we've probably had this model now for 17 years," she said. "I ran into an athletic trainer on the hockey bench and he had it hanging on his kit. So I contacted the company. I think the first one was $1,200. They're down to $900 now."
While gymnasiums are a logical place to have AEDs present, not all of them in the area have the device.
"I've heard from a lot of people that they officiate in places where they don't have them," Crowell said.
While emergency situations aren't a common occurrence, they do happen.
"It's actually amazing to me that, with 16 games every night and three officials on every game, we don't see it more," Northern Sun Intercollegiate Conference Commissioner Erin Lind said. "It's not common, but with the volume of competition we have, I'm surprised we don't see it more."
Lind said she doesn't recall an official collapsing on the court during an NSIC game before Sunday's incident, but there have been similar ones.
"We've had something like this happen before, but not someone on the floor," she said. "There were some health issues with officials, but it was right before or after the games."
According to the American Heart Association, 80 percent of Americans do not know how to perform CPR, which is why the organization sponsors inexpensive certification courses in communities all across the nation. Being prepared could significantly decrease the number of annual deaths due to sudden cardiac arrest (nearly 400,000).
But oftentimes, CPR alone is not enough since it is a temporary measure that maintains blood flow and oxygen to the brain. It cannot return a heart to a normal rhythm during ventricular fibrillation or ventricular tachycardia. AEDS are far more effective for cardiac arrest patients than CPR.
Steps for Using an Automated External Defibrillator (AED)
According to the Red Cross, these steps should be used when assisting a non-breathing adult or child aged 8 or older who weighs more than 55 pounds.
After checking the scene and ensuring that the person needs help, you should ask a bystander to call 911 and then:
1. Turn on the AED and follow the visual and/or audio prompts.
2. Open the person's shirt and wipe his or her bare chest dry.
3. Attach the AED pads and plug in the connector (if necessary)
4. Make sure no one, including you, is touching the person. Tell everyone to "stand clear."
5. Push the "Analyze" button (if necessary) and allow the AED to analyze the person's heart rhythm.
6. If the AED recommends that you deliver a shock to the person, make sure that no one, including you, is touching the person and tell everyone to "stand clear." Once clear, press the "shock" button.
7. Begin CPR after delivering the shock. Or if no shock is advised, begin CPR. Perform 2 minutes (about 5 cycles) of CPR and continue to follow the AED's prompts. If you notice obvious signs of life, discontinue CPR and monitor breathing for any changes in condition.
Note: During CPR, you should push on the chest at a rate of 100 to 120 compressions per minute. The beat of the Bee Gees' song, "Stayin' Alive," is a perfect match for this.
---
Story Credit: http://www.marshallindependent.com/news/local-news/2018/01/a-second-chance/