S.C. State Player's Collapse an Important Reminder for Coaches, Medical Personnel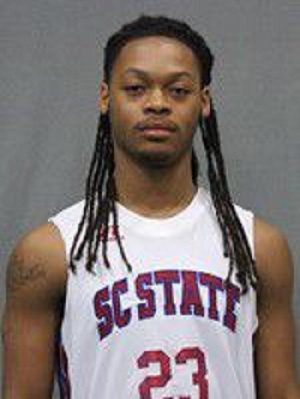 Minutes into a college basketball game, a player collapses. If not for the quick action of the team's athletic trainer and nearby paramedics, he would have died.
Ty Solomon started the game Saturday for South Carolina State as the Bulldogs took on N.C. State. The 5-10 senior from Johns Island came out of the game at the 16:02 mark in the first half. He later told reporters he was talking to one of his teammates before putting his head in his hands. That's the last thing he remembers until being taken to an ambulance on a stretcher.
While sitting on the bench, the former Charleston Collegiate player collapsed and fell unconscious. S.C. State athletic trainer Tyler Long responded immediately, performing CPR. Two Wake County paramedics at the arena rushed to the player's side and shocked Solomon with an automated external defibrillator (AED). The paramedics said Long's CPR and one shock with the defibrillator saved Solomon's life.
The paramedics took him from Raleigh's PNC Arena to Rex Hospital. Hours later, S.C. State head coach Murray Garvin announced on Twitter, "I am elated and overjoyed to report that Ty Solomon is awake and responsive."
The Bulldogs coaching staff let the players decide if they wanted to continue the game. They voted unanimously to play. The game was delayed 40 minutes while Solomon was treated on the court.
Even though this story has a happy ending, it raises several points to keep in mind if we want to prevent future tragedies.
By all accounts, Ty Solomon suffered a sudden cardiac arrest. These events are surprisingly common in high school and college sports. Cardiac events are the most common non-traumatic cause of death among student-athletes. While various studies place the risk of sudden cardiac death anywhere from 1 in 25,000 to 1 in 250,000 athletes, a 2011 study found a rate of one sudden cardiac death in every 3,100 NCAA Division I male basketball players.
I don't know the specifics of Solomon's case. The most common cause of sudden cardiac arrest is hypertrophic cardiomyopathy (HCM). This is a condition in which the walls of the heart chambers are abnormally thick and stiff, making it harder to pump blood. This is the condition that killed Loyola Marymount star Hank Gathers in the West Coast Conference championship game in 1990.
Athletes with HCM often have no idea they have a ticking time bomb inside their chest. They often have no symptoms like chest pain or shortness of breath. The first manifestation of HCM comes when they collapse in a game and die. Football and basketball players, and African-Americans in particular, are more susceptible to death from HCM.
It's possible to detect some athletes at risk for sudden death with an electrocardiogram (ECG). There is intense debate within sports medicine about whether ECGs should be a mandatory component of preseason physicals. The International Olympic Committee, FIFA and most U.S. professional sports use them.
The American Heart Association has consistently opposed mandatory ECG screening at the middle and high school levels. It cites cost, administrative challenges, and the possibility of a huge number of athletes testing positive without having a heart condition, leading to unnecessary tests and specialist referrals.
The NCAA proposed the idea of requiring ECGs for all student-athletes in 2015. When the team physicians for over 100 schools opposed the plan, NCAA chief medical officer Brian Hainline dropped it.
While we search for the best ways to identify at-risk athletes, we must be prepared should such an event occur. We need athletic trainers present at every game, and ideally, at every practice. If possible, having EMS on site ready to assist with treatment and transport is ideal as well.
In addition to having the right people, they need to know what to do. Schools and teams need emergency action plans. Every person needs to know their role. Who will start CPR? Who will get the AED? Who will call EMS? The sports medicine and coaching staff should review and practice the plan on a regular basis.
Plus, having an AED is vital. But just having one isn't good enough. The athletic trainers and coaches need to know where it is and have it close by. It needs to be fully charged, and the medical and coaching staff should know how to use it.
Quick action by S.C. State's athletic trainer and medical personnel saved Ty Solomon's life. Planning for these emergencies can hopefully save the lives of many future athletes.
Dr. Geier is an orthopedic surgeon in Charleston and author of 'That's Gotta Hurt: The Injuries That Changed Sports Forever,' available in bookstores now.
---
Story Credit: https://www.postandcourier.com/sports/s-c-state-player-s-collapse-an-important-reminder-for/article_9376534a-d9cc-11e7-a83f-c3f84a189141.html