Runner Out Of Hospital After Cardiac Arrest At Minimarathon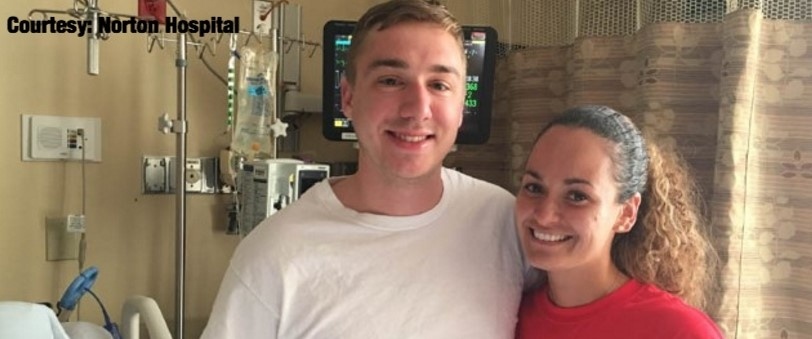 LOUISVILLE, Ky. — A runner who went into cardiac arrest at the finish line of Saturday's mini-marathon is out of the hospital.
Matt Murdock, 23, told Norton Hospital that when he crossed the finish line Saturday, he was hungry, he felt like he was going to pass out, and he needed to sit down. That's when he went into cardiac arrest.
"One of the nurses started CPR immediately, alerted us, we were stationed there at the finish line," said Maj. Chris Lokits, with Louisville Metro EMS.
EMS crews said with the help of nurse Robin Stinson, they took over CPR, attached a cardiac monitor, and used a defibrillator on Murdock, who had stopped breathing and didn't have a pulse.
"After two shocks he actually kind of woke up, he was able to talk to us before we even put him on the stretcher to leave," said Lokits.
"It's so fast, it's second nature," said Sgt. Roy Vandiver, with Louisville Metro EMS.
Tim Amshoff had 15 students with him at the finish line as part of Marion C. Moore High School's medical arts program. "The kids got real life experience, as real as it gets," said Amshoff.
The students saw up close a medical emergency, and a life saved. "As real as it gets, it can make anyone panic, and it can make anyone go into shock, one student called his mom," he said.
Matt Gibson with the Kentucky Derby Festival thanked EMS on Tuesday for a job well done.
EMS crews said a number of things could have triggered cardiac arrest, including not hydrating, electrolyte imbalances, or pre-existing medical conditions.
EMS personnel including Chris Lokits, Roy Vandiver, Jesse Scharff, Angie Brown, Rachel Wiedmeyer, Andee Walker, and Jeremiah Bartlett all helped on Saturday. Yellow Ambulance helped transport.
---
Story Credit: http://www.wlky.com/article/heart-transplant-cancer-diagnosis-not-stopping-this-high-school-senior/9597444