People Who Survived Cardiac Arrest Reunited With EMS Workers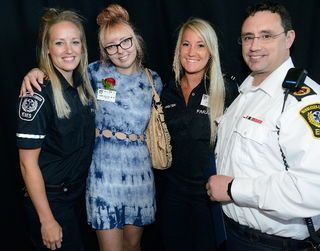 On a December morning, Marilyn Samways got a phone call saying that her daughter Jennifer was in the emergency room after undergoing cardiac arrest.
Jennifer, who was 19 at the time, barely remembers what happened. All she knows is that she woke up in the hospital, confused.
"It was the worst call," recalled Marilyn. "It was a nightmare, what you'd never want to happen."
On Friday, Middlesex-London Emergency Medical Services held an event where 17 individuals who survived cardiac arrest and their families were able to meet the people who saved them. Jennifer and her mother were among those survivors and were filled with tears and gratitude when they were reunited with their first responders.
Jennifer, who just turned 20, said she really turned her life around after the scary event.
"After this happened it was kind of like a wake-up call," said Jennifer. "I started eating healthier, started going to the gym and I just started feeling better all around."
Her first responders, Maggie Timmers and Tristen Caldwell, said that it is great to see a story like this one every once in a while.
"We just have so many people that we don't get to see a success story about," said Caldwell. "We wonder a lot what happens to the patients that we have and it's really nice to see a positive arc."
Jennifer takes classes at Bealart for college credit. She hopes that she will be able to attend the Ontario College of Art and Design in Toronto in the future.
Turning to the women who saved her life, Jennifer said the whole situation just blew her mind.
"Seeing you guys face-to-face makes it so real," said Jennifer. "It's scary to talk about but a lot of good did come out of it.
---
Story Credit: http://www.lfpress.com/2017/06/02/people-who-survived-cardiac-arrest-reunited-with-ems-workers