Parents Of Boy Who Died During Football Practice Meet Paramedic Who Tried To Save Him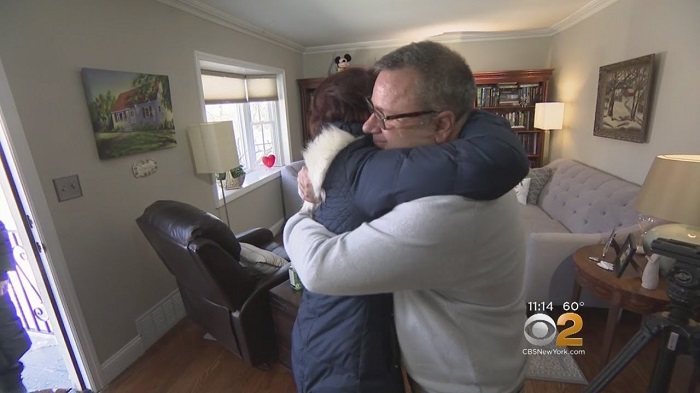 WALDWICK, N.J. (CBSNewYork) — A new program is bringing first responder training to athletic coaches, in hopes of making a difference between life and death for a player suffering cardiac arrest on the field.
So far, nearly 100 coaches have been trained as part of the All Heart program.
As CBS2's Hazel Sanchez reported, the program is in memory of Sean Fisher, who was 13 when he collapsed at football practice and died as a result of an undetected heart ailment.
Sean still lives as an inspiration through the foundation in his name, and All Heart. But there is someone else who has kept Sean's memory dear.
Nearly a decade ago, Michael Rizzo was the paramedic on call for an unconscious child on a football field.
Jim and Sheila Fisher are the child's parents, and they met Rizzo for the first time Wednesday.
The circumstances back then were extreme.
"I'm sorry I couldn't have done more," Rizzo said.
"Honestly, you did the best you possibly could," Sheila Fisher said.
"Thank you," Rizzo said as they hugged again.
The outcome, unfortunately, was tragic.
"You worked on him as much as you could," Jim Fisher told Rizzo. "You're a good man. It's bitter sweet."
It was August 2008 when Rizzo saw a teenage boy lying there in front of all his friends.
"You want to stop and stand back and say, 'Oh my God, this can't be happening; it's a young boy, but you focus very intently on saving Sean and doing what we could.'"
Sadly, Sean Fisher could not be saved. But that day turned out to be life changing for Rizzo too.
"I had such horrible chest pain on that call," Rizzo said. "A few months after is when I finally had my diagnosis of hypertrophic cardiomyopathy."
It turned out Rizzo had the very same heart condition that Sean died of. He eventually had a heart transplant.
"I have a heart of a woman in her 40s – that's what I've been told," Rizzo said. "I call her my donor angel and I talk to her every day, and I thank her and I pray her family is doing OK."
But Rizzo said he never forgot Sean and that day with the Fishers, and then, "I come across an article on the Fisher Foundation, and I said, 'I have to call them.'"
Their meeting was warmer and easier than each had anticipated — helping bring things full circle, Rizzo received a gift of a Sean Fisher Foundation hat and T-shirt.
"You're part of the Sean Fisher family now," Jim Fisher said.
Rizzo admitted that he feels a sort of survivor's guilt, since he and Sean both had hypertrophic cardiomyopathy and Sean has died while Rizzo goes on living. Sheila Fisher said Rizzo had nothing to worry about.
"You went on living – you're saving people every day of your life," she said. "There's a reason."
Rizzo said, "I want to see what i can do for you."
The Fishers have made Sean's Foundation and getting cardiac testing to kids in school their mission. Now it's part of Rizzo's next chapter too.
"Just the satisfaction of helping other families and kids so it doesn't happen again," Jim Fisher said. "That's the true satisfaction you get."
---
Story Credit: http://newyork.cbslocal.com/2018/02/21/sean-fisher-paramedic-heart-condition/