Local Universities Implement EKG Testing During Physicals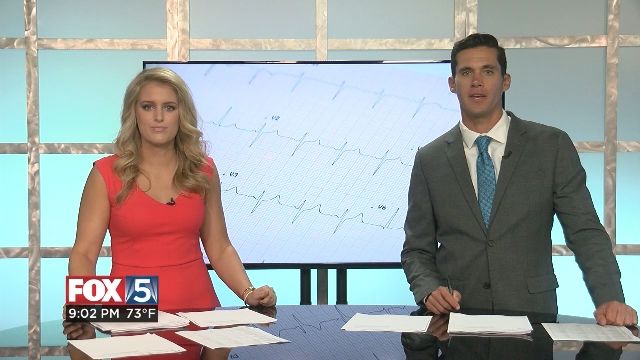 SPRINGFIELD, Mo. -- Drury University and Evangel University have partnered with Cox Health to take preventative measures to ensure their athletes are completely healthy before their big games by implementing EKG testing during physicals.
According to the NCAA, sudden fatality from a heart condition remains the leading medical cause of death in college athletes. Cox Health is hoping that by implementing EKG testing during sports physicals, they will be able to spot and address potential problems before it's too late.
Heart conditions can often go undetected or unnoticed, and for student athletes this could prove to be deadly.
"The risk of sudden cardiac death is actually going up and that's because of better reporting not necessarily because the condition is increasing," said Shannon Woods, Sports Medicine, M.D. with Cox Health.
The EKG test uses small electrode patches placed on the chest to allow doctors to see the heart's activity, helping to ensure everything is functioning as it should.
"Reading an EKG in a certain way helps to pick up a lot of conditions, a majority of conditions that can cause sudden cardiac death in student athletes," said Woods.
While the test takes mere minuets, it provides an extra level of reassurance and comfort for the athletes.
"For us as athletes, we're running, for soccer players, nine miles a game, so we need our heart to functioning adequately and to the best of it's ability and making sure we're able to do that is extremely comforting," said Matt Wagoner, the captain of the men's soccer team at Drury University.
Woods said taking care of your heart is important, and if you're experiencing chest pains, shortness of breath, dizziness or are passing out following workouts and games, this could be signs of a potential problem and you should notify your doctor immediately.
Cox Health has implemented EKG testing during sports physicals at Drury University and Evangel University, meaning more than 850 students will now have this added protection to ensure their healthy and ready for their season ahead.
---
Story Credit: http://www.fox5krbk.com/story/38924277/local-universities-implement-ekg-testing-during-physicals
---
Since you're here, we have a small favor to ask. Requests from schools and districts for our screening services are growing, which means that the need for funds to cover the cost of those services is also growing. We want to make our services available to those who request it and beyond, so you can see why we need your help. Safebeat heart screenings take a lot of time, money, and hard work to produce but we do it because we understand the value of a child's life, PRICELESS!
If everyone who reads this likes it and helps fund it, our future would be more secure. For as little as $1, you can support Safebeat and it only takes a minute. Make a contribution. -The SafeBeat Team