iBeat Raises $5.5M as it Gets Ready to Launch its Health Monitor Smartwatch this Summer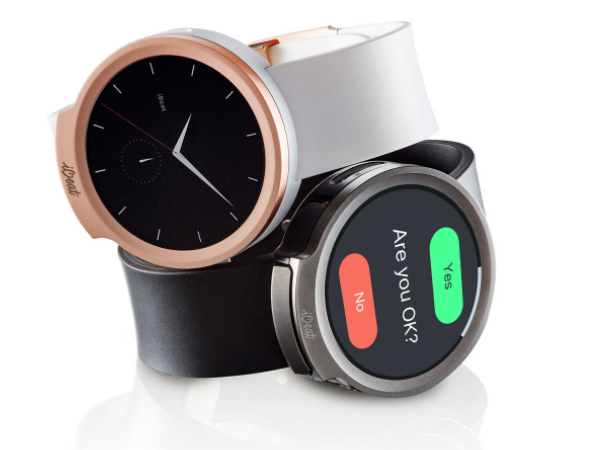 Heart disease is a major issue, one that affects a huge segment of the population. According to the CDC, about 610,000 people die of heart disease in the United States every year, which equals a quarter of all deaths. Coronary heart disease (CHD) is the most common type of heart disease, killing over 370,000 people. Worst of all, every years around 735,000 Americans have a heart attack.
This is the problem being tackled by iBeat, the maker of sensor-packed 'Heart Watch' that continually monitors a user's heart rate, blood flow and oxygen levels to prevent cardiac arrest, and other related problems.
After two years, iBeat is finally almost ready to launch and on Wednesday it got an infusion of cash to help bring the product to market.
The company raised a $5.5 million seed funding round from new investors Kairos, 8VC, City Light Capital, Plug and Play Ventures, ChinaRock Capital Management, as well as angel investors Tony Robbins, Josh Kazam, Shlomo Ben-Haim, Dr. Fred St. Goar, and Dr. Uma Valeti. This latest funding brings the company's total raised to $10 million.
Founded in 2016 by Ryan Howard, the founding CEO of electronic health record company Practice Fusion, iBeat is a wearable technology company focused exclusively on heart health. The device perpetually monitors and analyzes users' heart activity, allowing them to take a more active role in their heart health.
If the device detects that something is wrong, and the user does not answer to say that they are alright, iBeat will then engage dispatch, calling them in real time, along with the user's emergency contacts. That means that the wearer's friends and can family see where they they are in transit, so they can meet them as the hospital.
The idea is to monitor heart health. For example, someone might give it to their elderly parent, who would not have an emergency every day, but could now be monitored 24/7, sending data to the cloud about their heart. The device could show when their heart was stressed, when they exercised, and be able to tell when there is the potential for a bigger problem.
"Two-thirds of all people over 52 have heart disease, so that actually is our target user. Anyone that has heart disease, that puts them at incredibly high risk for cardiac arrest. That's our core audience; we are generally not on the user before they have cardiovascular disease. That's usually a trigger for them to go and seek a product like ours," Howard told VatorNews in an interview.
"What we're really trying to prevent is any type of pulselessness if the user stops breathing, and in some macro events, such as a cardiac arrest. During the event, from a biological and physiological perspective, if the user stops breathing, has pulselessness, is no longer pumping blood into their capillaries, our sensors detect all those components and then the device has an LT radio on it, so it turns that radio on, it has GPS on it, it turns that on, and it reaches out to our dispatch, who reaches out to paramedics with your location, reaches out to the emergency contacts previously set up."
There are any number of different types of wearables out there; the reason the company designed the product as a smartwatch is that it's what the users of the product are most comfortable with.
"When we started the company we looked at different form factors, something that straps to you, your chest or your leg. Simply, the watch is ubiquitous, especially for people over 50, and they're very, very comfortable wearing them. It was actually more challenging implementing this on a watch form factor but we thought that it made a ton of sense. The users really like the form factor," he said.
The other reason is that it sets iBeat apart from products like Life Alert, which, according to Howard, aren't flattering for the person wearing them.
"If I put on one right now I would look sick or elderly and the watch is, in our opinion, very empowering and stylish and that's part of what we're seeing that people in their 50s through 80s want. They don't want to look old," he said.
The company plans to use the new capital to prepare for its upcoming retail and consumer launch of its smartwatch in late June after two years of development.
"Hardware has a different latency than software does, and so we've been at it developing the product for two years. We just got our latest production models that are going into stores and we're really excited about that. We got them literally yesterday," said Howard.
"The previous builds were high quality but it's just so tight now. We have the product in beta so we're discovering, getting user feedback on some of the usability and the glass and some of the screens and we've been updating that, and the product is at a point where it is very strong and we're really excited about it. We're working aggressively on the sensor and algorithm and that's been coming together well."
During its beta period, during which it was tested by hundreds of users, the company found that 70 percent of users said they felt safer wearing the device.
"The challenge is that if you have cardiac arrest you can definitely live through it; not all the time but there's a high likelihood. But you need oxygenated blood going through your system via CPR, so you need someone giving you chest compressions until a defibrillator arrives. The problem is that paramedics, on average nationwide, are nine to 12 minutes away. The issue with that is that within three to five minutes without oxygen you're going to have some cognitive impairment, which can be permanent," said Howard.
"Your chances of getting revived every minute into cardiac arrest decrease by about 10 percent. So if you get revived at seven minutes in, that would be amazing and miraculous, but you'd likely have some cognitive impairment. So what we're trying to do is we're working on this other ancillary component that would put people around you who can intervene dramatically faster."
In addition, iBeat will also be using the funding to beef up its team. It just hired its 26th employee this week, and plans to add another 15 in the next few months.
The future of iBeat
Now that iBeat is about to hit shelves, the company already has plans for what it wants to do next.
First is another product that it plans to launch in 90 days, which consists of a network of CPR trained individuals that the company has assembled, many of them being its user's emergency contacts, whom iBeat has trained to help in emergency situations.
"Let's say you and I are brothers, we have an incredibly close connection, more so than a single degree of separation on a social network, and if you get the device, intrinsically I'm going to be incentivized to save you, especially if you trust me enough to set me up as an emergency contact. And that applies to most people you would default to to be an emergency contact, so it wouldn't be a normal neighbor, it would be trusted neighbor, it would be your partner, a brother, a sister, a caretaker, so this really deep explicit trust," Howard explained.
"With that, when you set them up we actually then encourage them to download this product and then become trained as well, so not only to help their partner, friend, peer, neighbor that's using the device, but to help other people in the community that are using it as well because now they're trained."
Next, the company plans on going deeper into the enterprise side of the business.
"We think of the device as more of a monitor and a safety platform and we're starting to do some enterprise sales. The enterprise customers that we're doing business with are positioning us as health, wellness and safety because we have this emergency functionality," he said.
Devices like iBeat can be especially profitable for spaces like life insurance.
"When you think about cardiac arrest being the single biggest killer, if you make it through the event, on average, you live another four years. We have a number of customers in the enterprise, including life insurance, so insurance is a huge focus for us, and I can't announce anything yet, but we've gotten some major traction," said Howard.
"If you think about you're paying for a quarter million dollar policy, you're paying $500 a month, so $6,000 a year, and then the insurance company, while they're receiving that $6,000, if you'reliving through an event, they're not paying the death penalty payouts so that quarter of a million dollars they're still earning interest on. That equates to, versus our service, to a potential 100 to 1 ROI for a product like us."
Eventually, the plan is for iBeat to be "the largest safety platform in existence," and the way to do that is for it to be primarily known as a medical device, which is the path Howard sees the company currently going down.
"The sensor strategy, and the sensor platform we built is exponentially more robust than anything else out there. We baselined it off a number of clinical devices, it's been put on many, many people. Most of the devices out there are detecting heart rate, which we are as well, we detect it at a dramatically higher fidelity, along with tissue oxidation, profusion, temperature, etc. What we're finding is that the retailers are really pushing us more into a heath monitoring category."
(Image source: ibeat.com)
---
Story Credit: http://vator.tv/news/2018-05-02-ibeat-raises-55m-as-it-gets-ready-to-launch-its-health-monitor-smartwatch-this-summer