Teen Thanks Healthcare Heroes Who Saved Her Life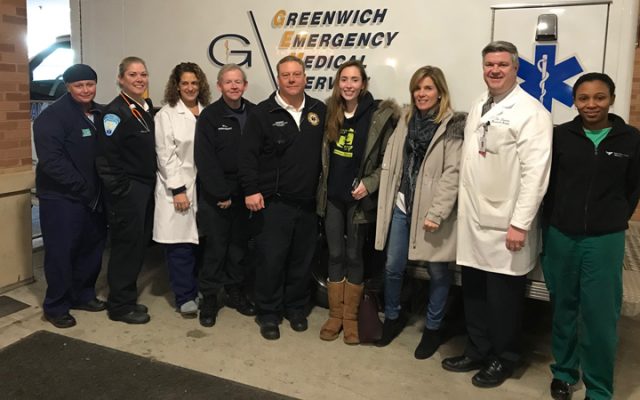 Seventeen-year-old Kelli MacTaggart of Greenwich has no memory of the cardiac arrest episode that had a multitude of Greenwich Hospital doctors and Greenwich Emergency Medical Service (GEMS) first responders scrambling to save her life last month.
On Thursday, the Greenwich Academy junior and her mother, Chrissy MacTaggart, were back at Greenwich Hospital's Emergency Department – only this time the teen was surrounded by jubilant doctors and first responders grateful to see her alive. The two stopped by to thank the hospital and GEMS staff.
"To see you standing here today is a miracle," said Christopher Davison, MD, medical director of Greenwich Hospital's Emergency Department. "We didn't think this was going to end well."
Kelli's ordeal began when she fainted on the path from Greenwich Academy to Brunswick School. Her classmates immediately called 911. First responders administered cardiopulmonary resuscitation and used a defibrillator multiple times to resuscitate her heart before arriving at the hospital.
At Greenwich Hospital, a team of doctors and nurses feverishly cared for Kelli, who continued to experience episodes of cardiac arrest. Kelli was experiencing ventricular tachycardia or V-tach, a type of fast heart rate that arises from improper electrical activity in the ventricles of the heart. The Greenwich team stabilized the teen, who was transferred to Westchester Medical Center and later Columbia Presbyterian for further treatment.
MacTaggart said Kelli is scheduled to receive an automated implantable cardioverter defibrillator, a device implanted inside the body that can correct most life-threatening cardiac arrhythmias. "I'm just so happy to have her," MacTaggart said on Thursday. "They saved her life."
"Kelli's visit means a lot to all of us here," said Dr. Davison. "Oftentimes, we don't know what happens to patients once they leave the Emergency Department. Seeing Kelli was an awesome sight."
---
Story Credit: https://www.greenwich-post.com/61993/teen-thanks-healthcare-heroes-who-saved-her-life/