Docs Take a Look at Hearts of Teen Athletes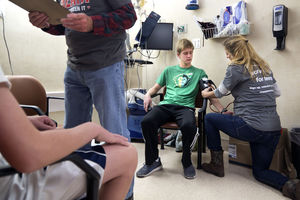 Jack Van Holland stared at the ultrasound screen from his gurney and smiled.
"I'm having a baby," he joked, looking to his mom, Tammie.
On the screen was his 16-year-old beating heart, muscles contracting, valves opening and closing.
"Your baby is very active," she retorted.
The technician moved the probe along his chest, capturing a series of shots before Dr. Ellen Gallant, St. John's Medical Center's resident cardiologist, was called behind the curtain. She reviewed Van Holland's chart, studied the images on the screen, and concluded everything "looks fabulous."
The echocardiogram — an ultrasound of the heart — was the last stop for Van Holland, who had weaved his way Saturday through the heart-screening stations at St. John's along with about 115 other teen athletes.
Van Holland, like many of those who attended the free clinic, didn't come in with any cardio concerns. He has always been in good health, his mom said, reaffirmed on an annual basis by the physical exam he receives before tennis tryouts.
But the screening offered peace of mind for parents, many of whom had Kayden Quinn Tapia on their minds when they registered their kids for the clinic.
Tapia, a 16-year-old Jackson Hole High School student, was found dead on the Snake River dike this summer. The autopsy showed the Jackson Hole Youth Hockey player died of hypertrophic cardiomyopathy, a genetic disease that causes thickening of the heart walls, a condition that can lead to sudden cardiac arrest.
"He knew Kayden," said Suzi Ekvall, whose 18-year-old son, David, was screened. "As a mom, I wanted to make sure he was safe."
About 1 in 500 teen athletes are diagnosed with HCM, Gallant said.