CPR-AED Awareness: Husband's CPR Saves Wife; AED Saves Student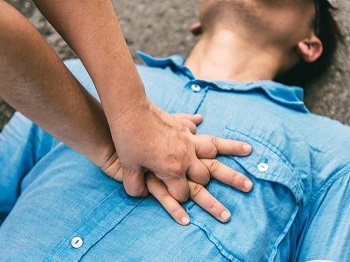 EVANSTON, IL — Sudden cardiac arrest is one of the leading causes of death in the country, but having someone willing and able to perform CPR immediately can make the difference between life and death. As part of the 10th annual National CPR and AED Awareness Week, public health organizations are reminding the public how important it is for bystanders to step up and act.
After all, the person whose life is most likely to need saving is statistically a friend or loved one. About 70 percent of cardiac arrests that take place outside of a hospital happen inside the home, according to the American Heart Association, and nearly 90 percent of people who suffer cardiac arrest outside of the hospital will die.
The awareness week, which runs June 1 through 7, was established by Congress in response to efforts by the American Red Cross, the National Safety Council and the American Heart Association. Currently, less than half of people who experience an out-of-hospital cardiac arrest get immediate help before first responders arrive.
When his wife collapsed on New Year's Day inside their Evanston apartment, Richard Newman, 78, first thought she slipped. When 69-year-old Jan Newman did not respond, Richard "remembered a little CPR," he told the Evanston Review. He started performing chest compression and called 911.
When paramedics arrived, they delivered two shocks and took Jan to the hospital, where doctors inserted three stents to keep her coronary arteries open, Pioneer Press reported. Her husband took CPR classes because he often plays golf with senior men, she said, but she never imagined it would come in handy on her.
In another recent case, CPR was not immediately effective when a sixth grader collapsed in math class in February at Ira Jones Middle School in Plainfield. Staff used an automated external defibrillator to revive him before rushing him to the hospital, where he remained for a week. The student has no memory of the incident but suffered no lasting harm, according to the school district.
"Many sudden cardiac arrest victims die before getting to a hospital, so every second counts," said Celena Roldán, CEO of the American Red Cross of Chicago & Northern Illinois, in a release. "People can make a difference and save lives by learning a few simple steps."
After calling 911, one useful step is to remember songs like "Stayin' Alive" by the Bee Gees, Beyoncé and Jay-Z's "Crazy in Love" or "Walk the Line" by Johnny Cash, which are all performed at the same 100-120 bpm rhythm recommended for chest compression, according to the American Heart Association.
In Illinois, bystanders who perform CPR are protected from legal liability for civil damages if they act in good faith, for free and along with recognized standards. Those protected by the Good Samaritan Act don't need to be certified as long as they have received some training.
The Red Cross offers more information on heart attacks, sudden cardiac arrest, hands-only CPR and other emergencies on the Red Cross First Aid App. Visit the Red Cross website for more information on training and certification, to find a class near you or find out how to arrange a group training at a workplace.
---
Story Credit: https://patch.com/illinois/evanston/cpr-aed-awareness-husbands-cpr-saves-wife-aed-saves-student