College Student Makes Amazing Recovery After Severe Brain Damage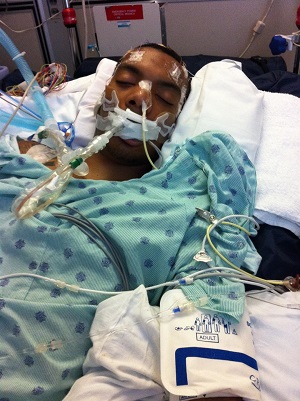 LUFKIN, TX (KTRE) - It was just a typical Saturday for a young, college student, playing a pick-up game of football, with his friends. But, 20 year old, Stephen Mask's life completely changed in a matter of seconds.
"Near the end of the game, I just passed out on the field," said Mask. "Just died basically."
Mask's heart had malfunctioned, depriving his brain of oxygen for 22 minutes. EMTs quickly responded and applied shock paddles and revived his heart beat. His mother, Tammi Lewis-Mask, remembered seeing her son at the hospital, for the first time.
"He was just laying there with machines, hooked up to machines, not breathing on his own," said Lewis-Mask. "And, I'm just like hysterical. That was the worst place I have ever been in my entire life."
Mask's family was told that he had Brugada syndrome, a heart disease that increases a person's chances of sudden cardiac death. It has very few noticeable symptoms.
"I remember my body on the ground as I was floating above it," said Mask. "I seen it all. I seen past relatives that died. I seen the pain in my Mom's face and my friends."
Doctors told Mask's family that the amount of brain damage he suffered put him in a vegetative state.
"But, of course when I got that news, I just cried out to God," said Mask. "I fasted and prayed, and just could not accept that my son was gone."
The Mask family continued treating there son, and, with the help of a defibrillator, he was able to start making his way back to normal. But, it would be a long journey.
"I lost everything," said Mask. "I didn't know who my mom was, who my Dad was, anybody. It was just a very scary situation, at the time."
It's been five years since Mask first entered to the hospital, and his transformation is almost unbelievable.
"As I come this far now, I realize it's not so scary," said Mask. "Just got to make sure you live right."
The Mask family are now set on making sure another person won't have to suffer the way there son did. They said there are ways to tell if you have Brugada syndrome.
"A simple blood test can detect if you have that issue," said Lewis-Mask. "So, it is so important because he never had any symptoms, and he's been playing sports ever since he was like three years old."
Lewis-Mask kept a journal during her son's time in the hospital and recently turned it into a book, titled Another Slam Dunk!!!
Mask is currently living a full and healthy life.
---
Story Credit: http://www.ktre.com/story/35980297/college-student-makes-amazing-recovery-after-severe-brain-damage