How a Central Jersey Soccer Club is Inspiring Coaches to be Trained to Stop Sudden Cardiac Arrest Deaths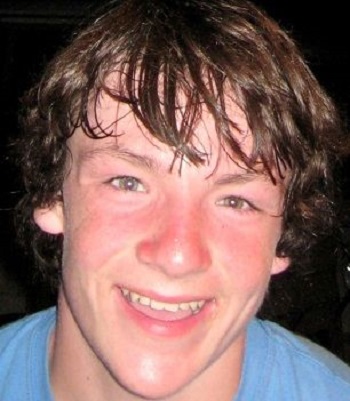 James Fisher arrived for a recent meeting inside the Rutgers University women's soccer office, greeted Scarlet Knights coach Mike O'Neill with a hug, and pulled out a pamphlet with his son's picture on it.
James Fisher arrived for a recent meeting inside the Rutgers University women's soccer office, greeted Scarlet Knights coach Mike O'Neill with a hug, and pulled out a pamphlet with his son's picture on it.
Fisher recalled dropping off his son, Sean, for a recreational-league football practice on Aug. 25, 2008. It was Sean's 13th birthday. Fifteen minutes into warmups, Sean collapsed on the field. He was a victim of an undetected heart condition known as hypertrophic cardiomyopathy.
In the 9 1/2 years since the death of his only child, James Fisher has devoted his life to providing free screenings to rising high school freshmen in Bergen County through the Sean Fisher Memorial Foundation.
"Unfortunately,'' he said, "we had no warning signs whatsoever with Sean.''
Although it's been nearly a decade since his son's passing, Fisher struggles to speak about it.
"It's still very raw for me emotionally,'' Fisher said, "but I know it's an important topic to talk about.''
Last August, a Bronx 14-year old high school football player named Dominick Bess died during a football practice and Fisher was interviewed by a New York television station.
O'Neill, the highly successful coach of the Rutgers women's soccer program, is a longtime friend of Fisher from their days growing up in Kearny. He saw the video and emailed the link to a Saint Peter's University Hospital cardiologist who has worked with his Rutgers women's soccer program on other charitable causes.
In the months that followed, Dr. Nidhi Kumar, the Director of Women's Health at Saint Peter's University Hospital, met with a group that included Fisher, O'Neill and two coaches -- Gerry McKeown and Thomas Anderson -- from a Somerset-based youth soccer club called the Player Development Academy (PDA).
Their meetings centered on the recent sudden-cardiac deaths of scholastic athletes. The result, Kumar said, is an "All Heart" program designed to educate the youth-athletic community on sudden cardiac death in athletes, to improve the safety of players through training coaches in cardiopulmonary resuscitation (CPR) and the use of automated external defibrillators (AED), and to raise national awareness in all sports communities.
"The goal is reduce the mortality rate from sudden cardiac deaths in young athletes,'' Kumar said. "We feel like this is going to be a game changer in youth athletics. We have a lot of strong coaches who are nationally recognized behind it, so we feel like we really can accomplish that goal.''
The first phase of the program will begin in January, when 60 soccer coaches from PDA will learn CPR in a medical-simulation lab at Saint Peter's University Hospital. The sim-lab technology, Kumar said, will enable coaches to train in potential medical-emergency situations encountered on the field.
"The incidents of sudden cardiac deaths in youth sports right now is considered to be 1 in 200,000,'' Kumar said. "That being said, in our area alone we had two young athletes die this fall. No symptoms or signs, they went into cardiac arrest at a practice and died.
"The question is why are these kids dying?''
New Jersey has been at the forefront of mandating cardiac screenings and implementing measures to prevent sudden cardiac arrest in high school sports.
In 2012, New Jersey lawmakers implemented Janet's Law, which requires that all public and private K-12 schools in the state have an emergency-action plan for sudden cardiac arrest and to have an AED within approximately 90 seconds of the athletic field or gym. The following year Gov. Chris Christie signed the Scholastic Student-Athlete Safety Act, a law that includes a pre-participation physical evaluation form and a mandate for parents to sign an educational pamphlet that explains the symptoms of sudden cardiac arrest.
Fisher, who is on the board of Parent Heart Watch, a non-profit organization that serves as a national voice for protecting youth athletes from sudden cardiac arrest, said his goal is to get a law passed requiring parents to sign questionnaires on their child's heart history at the point of signups for their youth leagues throughout the state.
But Kumar said questionnaires and cardiac screenings aren't enough.
"There are a lot of cardiac abnormalities that might not be detected from a screenings,'' she said. "As we met throughout the fall, we realized (mandating) screenings wouldn't be the right path.''
Kumar said studies of past incidents show "it's all about minutes'' when it comes to saving a life in sudden cardiac arrests.
"Really the way to handle it is early defibrillation,'' Kumar said. "Every minute that goes by without getting shocked by a defibrillator your mortality rate goes up 10 percent. Once somebody recognizes an issue, they contract EMS and it can be 10 minutes before that shock is applied to the chest. That's why the mortality rate is so high with this issue. We wanted to bring solutions to the field.''
While she stressed the need for people to call 911 immediately at the first sign of an athlete collapsing because of an apparent heart issue, Kumar said: "The problem with the ambulance is there's traffic and you're losing minutes.
"But for every athlete there's a coach who's 100 feet away. The thinking was if we could get coaches who are trained and educated on what to do, we can save a life and you can ultimately cut down -- or even eliminate -- mortality from sudden cardiac arrests.''
In a college basketball game against North Carolina State on Saturday, South Carolina State guard Tyvoris Soloman's heart reportedly stopped and he collapsed on the court.
Solomon was resuscitated by a South Carolina State athletic trainer and emergency medical personnel used an AED to revive the 5-foot-10 guard.
"I guess you have all these things in place for a situation like this,'' South Carolina State Associate Coach Rio Pitt told reporters after the game, "but you never expect it to happen.''
Solomon survived and is reportedly is undergoing a battery of tests to discover the cause for his heart attack.
"I love those (medical-personnel) guys,'' Solomon said in an interview Monday with the Raleigh (N.C.) News & Observer. "Perfect timing, I guess. I was glad it happened where it happened at because I could have been with one of my teammates in a car and it could have been a whole different situation.''
Fisher said it's incidents like this one that proves athletes who go into sudden cardiac arrest can be revived if there are quick-acting coaches with an AED close to the playing fields.
His son didn't have that chance.
According to an Aug. 26, 2008, report in The Star-Ledger, a parent who was a certified EMT ran onto the field, pulled off Sean's helmet and administered CPR. Authorities said paramedics later used a defibrillator, but Sean was pronounced dead at a Bergen County hospital.
"When somebody goes into cardiac arrest, you have 10 minutes,'' James Fisher said, reiterating Kumar's medical expertise. "You need to have defibrillators nearby.''
His organization donates AEDs to various youth leagues throughout the country. He points to PDA, which is equipping its Somerset-based facility and practice fields with multiple AEDs as what he hopes will be the standard for club teams throughout the state.
"When it was presented to (PDA founder) Tom (Anderson), he said, 'If we're going to do it, we're going to do it right,' '' Kumar said. "Typical AEDs range from $500 to $1,000. But youth athletics is a $2 billion industry. Parents will be more than willing to spend a little more money for safety and to save a life.''
On the day of his meeting with Fisher at Rutgers, O'Neill received an email from a coach at PDA, Jeremy Beardsley, who coined the "All Heart'' title for the program.
The email read: "All Heart was borne from a deep belief in the powerful emotional connection great teams have with each other. All Heart is not just a concept we discuss as soccer players, it is the powerful realization that in everything we do we must do it with ALL HEART. We remind ourselves at the end of every training session and at the end of every match that the conviction to give our complete effort and leave nothing else to chance is the core of the All Heart mentality. It binds us together and is the foundation of our culture. We live All Heart not just for ourselves but our teammates and our families.''
O'Neill, who has compiled a 57-18-15 record and led Rutgers to four straight NCAA Tournaments since taking over the women's soccer program in 2014, said the All Heart Program is "personal'' to him because of Fisher.
"I watch him cry and it has an impact on me,'' said O'Neill, who is quick to credit Gerry McKeown, the PDA boys soccer director and director of the U.S. Club Soccer boys program, for his assistance to the All Hearts cause.
"I know this is therapy for Jimmy. I just believe in using all our resources to make people aware of what's happening and what we can do about it.''
Clinging to his son's picture, Fisher smiled at O'Neill's words.
"It's all about trying to prevent it from happening again,'' he said.
---
Story Credit: http://www.nj.com/rutgers/index.ssf/2017/12/rutgers_heart_sudden_cardiac_arrest_mike_oneill.html