Tennis, Anyone?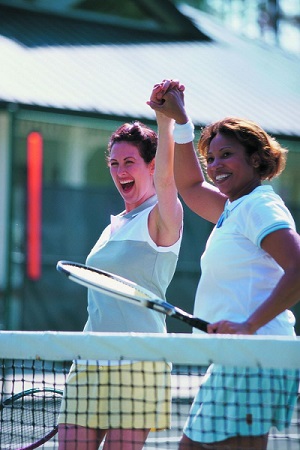 If you haven't lobbed a tennis ball over a net since high school, you might want to pick up a racket again. A recent study suggests that people who play racket sports regularly may slash their odds of dying from a heart attack or stroke.
Tennis, which ranks among the world's most popular sports, provides an excellent full-body workout, plus a few other less obvious benefits. And lower-impact racket sports, such as badminton or table tennis, may be good choices for people who have certain health conditions or who are older (see "Ping-Pong, perhaps?").
But as many tennis enthusiasts already know, the beauty of this sport is that you can play throughout your life. You can adjust your level of exertion to whatever is comfortable for you to sustain over the course of a match.
"That might be singles at one stage of your life and doubles at another," says cardiologist Dr. Thomas Lee, professor of medicine at Harvard Medical School. "You might dive for balls in your 20s and simply applaud a good shot by your opponent in your 70s or 80s."
The court advantage
According to a study published last year in the British Journal of Sports Medicine, people who hit the courts a few times a week in middle age may live longer. The report relied on data from 11 consecutive national health surveys, including more than 80,000 adults from England and Scotland with an average age of 52. Researchers asked participants about the type, amount, and intensity of various sports they'd done over the previous four weeks. During the follow-up, which lasted an average of nine years, about 1,900 had died from heart disease or a stroke.
Compared with respondents who had not done any sports, people who played racket sports (tennis, squash, or badminton) had a 56% lower risk of dying of heart disease or a stroke. Other sports that appeared to be especially good for lowering cardiovascular mortality included swimming (41%) and aerobics (36%).
Those three activities all engage both the upper and lower body in vigorous exercise, which makes the heart work harder — a possible explanation for the findings. The data also revealed that whatever activity participants chose, the more often they exercised, the lower their risk of death. Earlier studies have also linked tennis to factors associated with better heart health, such as a lower body-fat percentage, more favorable cholesterol levels, and enhanced aerobic fitness.
Intervals and social networks
Tennis great Bjorn Borg allegedly described a tennis match as "a thousand tiny sprints." During a match, the frequent short bursts of high-intensity activity, interspersed with longer periods of lighter, less vigorous movements, are a perfect example of interval training. This workout strategy — which can be adapted to almost any type of exercise — seems to be a good way to boost cardiovascular fitness, according to exercise experts.
The mental benefits of tennis might also be at play. Because tennis demands strategy and planning, players need to focus intently on the court. This type of mindful, present-focused attention may help ease stress, which in turn may help lower heart disease risk. Camaraderie counts, as well. A friendly match with others strengthens your social network, which may also lower stress and enhance happiness. You don't necessarily need to join a tennis club, as many communities have neighborhood courts. Check with your local parks and recreation department or community center for classes and other information.
In July, you can tune in to watch the pros compete at Wimbledon for inspiration. Just be sure to follow through on your own exercise plans, whether it's tennis or another activity. "Anything that gets you moving and your heart speeding up is good for you. And remember, it's better to be on the court than watching tennis on TV," says Dr. Lee, a tennis player and former editor in chief of the Harvard Heart Letter.
Ping-Pong, perhaps?
If you're not quite fit enough for a volley on a big court, table tennis might be just the ticket. A small study in The American Journal of Cardiology found that for low-fit men with stable heart disease, table tennis (also known as Ping-Pong) is a relatively safe and potentially beneficial leisure-time activity. For most of the participants, their heart rate, blood pressure, and oxygen consumption values during a 10-minute bout of table tennis were similar to those measured during prescribed treadmill exercise training.
---
Story Credit: http://www.health.harvard.edu/exercise-and-fitness/tennis-anyone