Cooking for Heart Health Month: Greek-Style Braised String Beans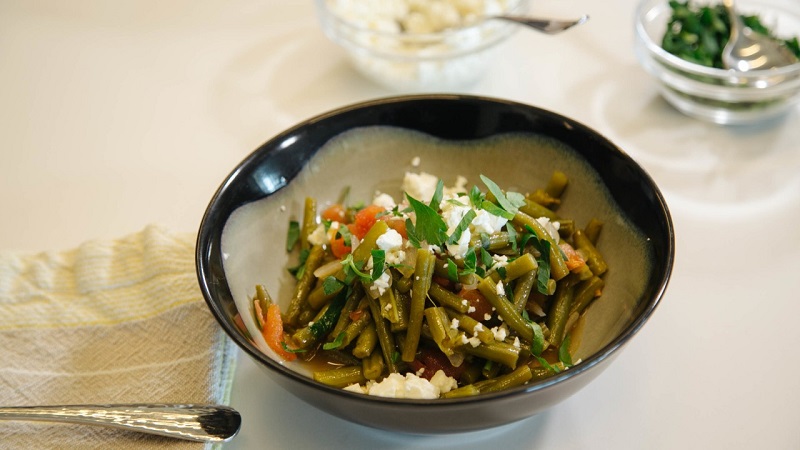 (KGTV) — With February being Heart Health Month, there are plenty of reasons to jump into the Mediterranean Diet.
And many are simple and easy adjusts to your diet. Take Greek-style braised string beans, or Fasolakia Yahni.
In as little as an hour, you can put together this heart-healthy and hearty dish for the entire family, even after a busy day. Here's how:
Serves four to five
2 lbs Fresh String Beans (look for ones that are bright in color with minimal wrinkling and bruising)
½ cup Olive Oil
1 large yellow onion chopped
3-4 fresh tomatoes, peeled, seeded and chopped OR 1 8-oz. can tomato sauce
2 cups warm water
Salt and Pepper to taste
STEPS: Rinse Green beans, snap off ends and cut in half if desired.
Heat oil in a 6 quart pot at medium heat until shimmering, add onion and continue to stir until onion is tender and slightly translucent but not brown.
Stir in chopped tomatoes or tomato sauce, 1 tsp salt and ½ tsp fresh ground pepper and lower the heat and allow it simmer for 5 minutes.
Add warm water, bring to a boil and quickly add the string beans, stir until beans are coated in tomato sauce.
Cover the pot and cook over low heat for 40 minutes or until beans are soft and a thick sauce remains.
Note: Zucchini wedges and tiny potatoes can be added to this dish, approximately 20 minutes after the green beans are added. I like to make this a meal by enjoying it with a nice slice of Feta cheese, and/or a slice of bread.
---
Story Credit: https://www.10news.com/lifestyle/exploring-san-diego/cooking-for-heart-health-month-greek-style-braised-string-beans
---
Since you're here, we have a small favor to ask. Requests from schools and districts for our screening services are growing, which means that the need for funds to cover the cost of those services is also growing. We want to make our services available to those who request it and beyond, so you can see why we need your help. Safebeat heart screenings take a lot of time, money, and hard work to produce but we do it because we understand the value of a child's life, PRICELESS!
If everyone who reads this likes it and helps fund it, our future would be more secure. For as little as $1, you can support Safebeat and it only takes a minute. Make a contribution. -The SafeBeat Team