Energy Drinks: Health Risks Behind the Boost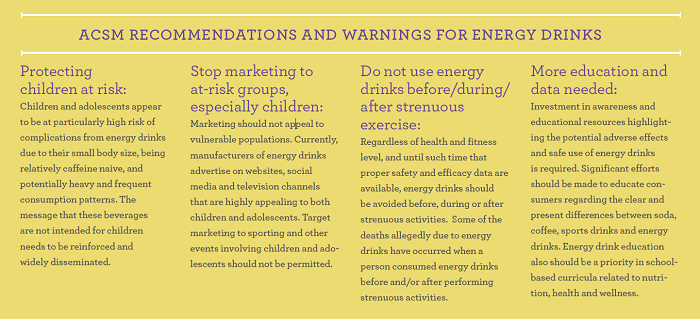 Despite the popularity of caffeine- and sugar-laden energy drinks, their adverse health effects are leaving a bad taste in doctors' mouths.
John Higgins, M.D., a sports cardiologist at McGovern Medical School at The University of Texas Health Science Center at Houston (UTHealth) and a member of the American College of Sports Medicine (ACSM), said athletes often ask him and his colleagues about energy drinks. Is it healthy to consume them? Do they really improve athletic performance?
"There wasn't a whole lot of really good information out there about energy drinks, so we put together a review," said Higgins, who also serves as a sports cardiologist for Rice Athletics and the Houston Rockets. "What surprised us … was that a lot of individuals who were consuming them were experiencing problems and having to go to the ER. We thought, 'Something's not right here.'"
Popularity surge
The popularity of energy drinks in the United States surged between the late 1990s and early 2000s, when major companies—including Red Bull, Monster Beverage Corp. and Rockstar Energy Drink—introduced highly-caffeinated beverages laced with a cocktail of vitamins and herbal ingredients to give consumers a boost of energy. Advertisements for these drinks promised to enhance athletic performance and improve mental sharpness. One ad suggested that consumers would feel energetic enough to fly.
Over the years, people grew increasingly thirsty for energy drinks, and beverage companies upped their game to meet the high demand. Between 1999 and 2014, energy drink sales in the U.S. skyrocketed 5,000 percent, according to data from market research firm Euromonitor International. Sales have tapered off in recent years, but energy drinks remain popular among teenagers, high school and college students, athletes and office employees who want to push through a workout or avoid the mid-afternoon slump. Yet there is limited data on the health risks surrounding energy drinks.
New recommendations and warnings
In 2010, Higgins launched an investigation into the popular beverages. His research showed that energy drinks have an adverse effect on the cardiovascular system and can cause neurological, gastrointestinal, renal and endocrine system problems, as well. Higgins' findings were used as the basis for an official statement recently released by the ACSM, announcing new recommendations and warnings for energy drinks.
A majority of volunteers who participated in Higgins' study experienced arterial endothelial dysfunction, a condition in which the arteries are unable to open properly for blood to flow, after consuming an energy drink. Pair that with arduous physical activity or exercise—when the heart demands more blood flow—and a serious cardiac event could arise.
"There's going to be a flow-demand imbalance—the classic setup for ischemia—in the heart muscle, which we know can lead to things like ventricular tachycardia, ventricular fibrillation and sudden cardiac arrest," Higgins said.
A 2014 report by the Substance Abuse and Mental Health Services Administration found that the number of emergency department visits among patients age 12 or older involving energy drinks—either consumed alone or in combination with alcohol or other drugs—doubled from 10,068 in 2007 to 20,783 in 2011. In this group, 1 in 10 energy drink-related emergency department visits resulted in hospitalization. "We've definitely seen kids who have been associated with energy drinks, but not solely based on that. A lot of times … it's poly-ingestion. They'll have an energy drink and some alcohol or an energy drink and some pills," said Robert Lapus, M.D., an emergency medicine physician with Children's Memorial Hermann Hospital and UTHealth. "They come in after getting hit by cars, accidents, falls, etc."
The ACSM issued four recommendations around energy drinks: protect children and teens who are at high risk of complications from energy drinks; stop marketing to youths; do not use energy drinks before, during or after strenuous exercise; and increase education and research to better understand the safety and efficacy of energy drinks.
"We have a situation of something potentially dangerous that is freely available," Higgins said. "The entire culture has to change until we know what's going on."
The growing number of cardiovascular incidents involving energy drinks demands further research into the ingredients packed into each can, as well.
"You read the label and it'll say 50 to 100 mg of caffeine, but I think it's the other ingredients in there that are almost like caffeine—the guarana, the ginseng, the taurine—which we can't really put an amount to or know exactly what they do," Lapus said.
Because of the regulatory "labeling runaround," Higgins said, energy drinks lack transparency. The classification of some energy drinks as "dietary supplements" allows energy drink companies more latitude in terms of which ingredients and how much of each ingredient they can add to their product, he said.
Although both dietary supplements and traditional beverages—such as carbonated soft drinks—must comply with U.S. Food and Drug Administration (FDA) rules and regulations, there are significant differences between them. The National Center for Complementary and Integrative Health, part of the U.S. National Institutes of Health, observed that "natural" does not always mean "safe" when it comes to dietary supplements, and that "an herbal supplement may contain dozens of compounds and that all of its ingredients may not be known."
Some energy drink companies—including Monster and Red Bull—converted from dietary supplement to beverage, but not all have made the switch.
"There are components in these energy drinks that we still don't know what they do," Higgins said. "These energy drinks are stacked with caffeine, stacked with sugar, stacked with all of these things that we don't even know. Some of these ingredients, I can't even pronounce their names."
Cracking down
One specific ingredient in question is taurine, an amino acid naturally found in meats and fish. Some energy drinks contain up to 2,000 mg per can of taurine, which can have an adverse effect on cardiovascular function when combined with caffeine.
"The effects in terms of speeding of the heart rate and heart pumping were more related to the taurine interaction with the caffeine," Higgins said. "They're trying to stimulate your heart, but your body is a mastermind. It knows how to speed the heart rate up and how to affect the blood pressure when you're exercising better than anyone. We don't need some artificial thing to crank it up."
Some countries in Europe have cracked down on energy drink sales to minors. In 2016, Latvia banned the sale of energy drinks to children 18 and under, and earlier this year, the United Kingdom banned supermarkets from selling energy drinks with more than 150 mg of caffeine per liter to people under the age of 16.
Higgins said he's not looking to put energy drink companies out of business, but he hopes the U.S. will follow suit and stop kids 18 and under from putting their health at risk until more information about the long-term health effects is known.
"I don't want to say, 'Ban all energy drinks,'" Higgins said. "All I want is to protect vulnerable populations."
---
Story Credit: http://www.tmc.edu/news/2018/04/energy-drinks-health-risks-behind-the-boost/