Eat One Of These 5 Doctor-Approved Breakfasts Daily To Protect Your Heart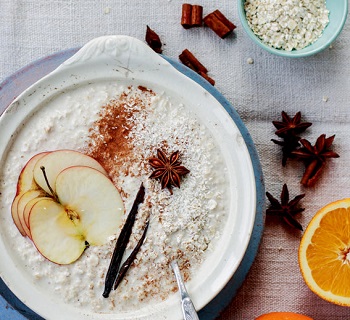 Joel Kahn is a world-renowned cardiologist and the best-selling author of The Whole Heart Solution. He's also one of the lauded instructors in our first-of-its-kind Advanced Functional Nutrition Program, where we bring the best minds in nutrition together and dive deep into the healing power of food. You can find out more about Dr. Kahn, the rest of the faculty (including groundbreaking doctors like Mark Hyman and Frank Lipman), and this revolutionary training here.
A 1,000-mile journey on your plant-based diet begins with a single step, and, for many, conquering breakfast is that first step. Starting the day with a nutritious and filling meal free of animal products may be enough of a change from something you have been grabbing at the gas station or coffee shop to keep you focused on moving forward to manage lunch, dinner, snacks, and travel. Here are five of my favorite morning meals that are simple to make, delicious, nutritious, and all plant-based.
Apple Cinnamon Oatmeal Bowl
A powerful bowl of cholesterol-lowering oats, blood-sugar stabilizing cinnamon, and natural sources of omega-3 fatty acids from walnuts supports reduced inflammation and optimal heart health.
Ingredients
1 small apple, chopped
2 tablespoon chopped walnuts
¼ teaspoon pumpkin pie spice
¼ teaspoon cinnamon
1½ cups water
¾ cup rolled oats
pinch of salt
1 tablespoon ground flaxseeds
2 tablespoon raisins
1 tablespoon brown sugar
A splash of plant milk
Method
In a small saucepan, add a little water over medium heat. Add the apple and sauté for 2 minutes.
Add the walnuts, pumpkin pie spice, and cinnamon. Stir and cook for 1 minute.
Add the water and bring to a boil.
Add the oats and a pinch of salt. Turn heat down to medium-low and simmer until oats begin to thicken up.
Add the ground flaxseed (this will help thicken the oatmeal); add the raisins, brown sugar, and a splash of plant milk. Cook until thick.
Serve in a bowl, top with a splash of vanilla plant milk, and add a sprinkle each of brown sugar, walnuts, raisins, and fresh apple slices, if you desire.
Avocado Toast
Enjoy the health boost from 100 percent whole grains (studies show they reduce mortality from all causes, including heart disease) while experiencing the proven cholesterol-lowering action of whole avocado. Sprinkle with seeds, and you get an extra dose of fiber and omega-3s!
Ingredients
1 avocado, cut in ½-inch dice. Discard the seed.
A pinch of salt and pepper to taste if desired.
Hemp seeds, flaxseeds ground, or chili flakes (optional)
Method
Toast your favorite 100 percent whole grain bread.
Mash the avocado. Season to taste
Spread on the warm toast
Sprinkle with hemp, ground flaxseed, or chili flakes.
Blueberry Apple Oats
Blueberries, fresh or frozen, are often called brain berries for the boost they can provide to our memory. They also support healthy hearts by reducing oxidative stress.
Ingredients
½ cup frozen/fresh blueberries (organic preferred)
1 small apple grated (organic)
½ cup rolled oats
1 cup plant milk (e.g., hemp, oat, rice, organic soy, almond)
Method
Place the blueberries in a saucepan with a splash of hot water. Let them cook for 5 minutes until the blueberries are soft and juicy. Pour into a glass bowl.
Mix the grated apple, oats, and milk in the saucepan and cook for 3 to 5 minutes, until they're hot and creamy.
Add the blueberry mixture into the oats. Mix together and enjoy.
Feel free to add cinnamon, nuts, etc., on top.
Blueberry Buckwheat Breakfast
Buckwheat groats are gluten-free seeds from a plant related to rhubarb. The robust flavor of this quick-cooking gluten-free grain is perfect for salads, soups, and cereal. Buckwheat provides a ton of fiber, vitamins, nutrients, and minerals that may lower inflammation and cholesterol.
Ingredients
1 cup buckwheat groats, soaked overnight
2 cups blueberries (fresh or frozen, organic preferred)
2 tablespoons maple syrup
½ cup nondairy milk or water
1 banana
Juice of half a lemon
1 teaspoon vanilla
Method
Cover buckwheat with water in a bowl. Let sit overnight. The next morning, drain and rinse very well.
Using a blender blend the blueberries with maple syrup until very smooth. Remove about ¼ cup of the blueberry puree and set aside.
Add the buckwheat groats, milk or water, banana, lemon juice, and vanilla to the remaining blueberry puree in the blender, and blend until smooth.
Pour into bowls and swirl the remaining puree into the bowls.
Top with berries or seeds or nuts.
Strawberry Quinoa Flakes
Starting off the day with spices and strawberries provides your brain and cardiovascular system with needed nutrients. The protein-rich quinoa twist provides an extra boost of energy.
Ingredients
⅓ cup quinoa flakes (available in many grocery stores)
1 cup water
½ cup frozen or fresh strawberries (organic preferred)
pinch of cinnamon
Method
Put all the ingredients in a small saucepan. Bring to a boil and reduce the heat to simmer. This will cook in about 1 minute!
---
Story Credit: https://www.mindbodygreen.com/articles/the-best-breakfasts-for-heart-health