Chocolate Sauce Is Good For Chicken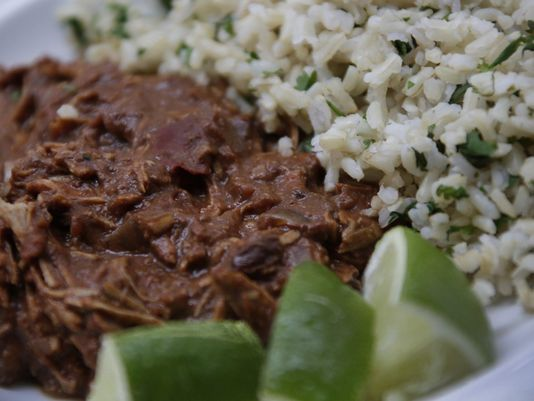 Mole (MOH-lay) is a classic Mexican chile sauce, typically served with chicken. This dark, thick, rich sauce contains a unique blend of ingredients including cocoa, dark chocolate, peppers and peanut butter to create a sweet, spicy and savory sauce.
As a chocolate lover and dietitian, seeing dark chocolate as an ingredient in today's recipe intrigued me. The American Heart Association's review on cocoa and cardiovascular health found a positive association between modest cocoa and chocolate consumption and heart health. While how it works is not completely understood, several studies found that consuming cocoa-rich chocolate reduced blood pressure in people with hypertension and prehypertension (slightly elevated blood pressure).
Another interesting finding was the potential benefit to blood vessel health. Cocoa and chocolate consumption helped make blood platelets less sticky and slowed platelet clumping. Platelets that clump together and form clots can block blood vessels, which may result in a heart attack.
Today's mole is served with cilantro and lime-infused, whole-grain brown rice. Whole grain consumption has been linked to a lower risk of heart disease, diabetes, digestive disorders such as diverticulosis and constipation and some forms of cancer.
While brown rice makes a wonderful accompaniment to today's mole, feel free to experiment with other unique grains, like bulgur or farro.
Bulgur is easy to prepare and provides a nice dose of dietary fiber — 4 grams in a half-cup serving. Bulgur is available in different grinds — fine, medium, coarse, and very coarse. A fine or medium grind is great for a warm breakfast cereal or in tabbouleh. As a rice substitute for today's recipe, use coarse or very coarse bulgur, as it holds its shape.
Farro (FAHR-oh) has a nutty, slightly sweet flavor and chewy texture similar to barley. With an impressive 4 grams of fiber per half-cup serving, farro adopts the flavors of other foods, making it a great addition to chilled salads, hearty soups, stuffings, pilafs, and rice dishes.
---
Slow-cooker Chicken Mole with Cilantro-Lime Rice
Serves: 6 / Preparation time: 20 minutes / Total time: 7 hours 30 minutes (using a slow-cooker)
1 cup chopped onion
1/2 cup raisins
1 canned chipotle pepper in adobo sauce, coarsely chopped
4 cloves garlic, peeled, minced
3 tablespoons peanut butter, divided
1 can (15 ounces) crushed tomatoes
1 teaspoon ground cinnamon
1 teaspoon ground cumin
3 tablespoons cocoa powder
20 ounces boneless skinless chicken breast
1 tablespoon cider vinegar
1 ounce dark chocolate (70 – 85% cacao)
1/2 teaspoon salt
3 cups cooked brown rice
1/3 cup snipped cilantro
2 teaspoons lime zest
6 lime wedges
Place onion, raisins, chipotle pepper, garlic, 2 tablespoons peanut butter, crushed tomatoes, cinnamon, cumin and cocoa powder in a 31/2- or 4-quart slow cooker.
Add chicken breasts. Cover and cook on low-heat setting for 7 hours. Turn off slow cooker. Using 2 forks, pull chicken apart into shreds; gently stirring to combine meat and sauce. In a small bowl, combine remaining tablespoon of peanut butter and vinegar. Pour over chicken, add dark chocolate and salt. Cover and allow chocolate to melt; 3 to 4 minutes. Stir to combine. Prepare rice according to package directions, omitting salt. When rice is cooked, stir in cilantro and lime zest. Each serving consists of 1/2cup cilantro-lime rice and 3/4 cup chicken mole garnished with a lime wedge
Created by Darlene Zimmerman, MS, RD, for Heart Smart and tested by Susan M. Selasky for the Free Press Test Kitchen.
396 calories (23% from fat), 10 grams fat (3 grams sat. fat, 0 grams trans fat), 48 grams carbohydrates, 29 grams protein, 370 mg sodium, 60 mg cholesterol, 80 mg calcium, 7 grams fiber. Food exchanges: 2 starch, 2 vegetable, 3 lean meat.
---
Story Credit: http://www.freep.com/story/life/food/recipes/2017/04/29/healthy-table-mole-chicken/101036476/